Gov't commits to gradual economic recovery
VGP – It is necessary for all ministries, sectors and localities to maintain the fine impetus of economic growth in the first month of the year, said a government leader.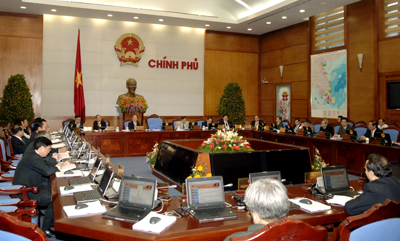 The January regular meeting of the Government takes place on February 1, 2010 in Hà Nội – Photo: VGP/Nhật Bắc
Permanent Deputy PM Nguyễn Sinh Hùng on February 1 in Hà Nội chaired the Government's regular meeting of January during which wide-ranging socio-economic issues were put on the table.
According to the Mr. Hùng and other Cabinet members, the socio-economic performance in the first month show-cased positive outcomes.
Industrial production value in January is expected to surge 28.4% against the same period last year. The Northern provinces of Vĩnh Phúc, Phú Thọ, central city of Đà Nẵng, and Hồ Chí Minh city are outstanding examples in this field.
The total sale of goods and revenues of services went up 23.1%. Meanwhile, export turnover may reach US $4.9 billion, an increase of 28.1% over the same period last year. Around 136,000 new jobs were created, including 6,000 guest workers sent to foreign markets.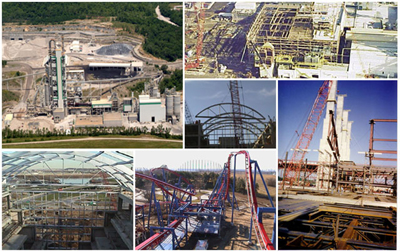 January 2010 witnesses promising socio-economic outcomes – Illustration photo/VGP
The Government's members assessed that Việt Nam owns numerous advantages for further development, such as the faster global economic recovery than forecasted, the comining into effect of the ASEAN-China Free Trade Agreement and the ASEAN–Australia–New Zealand Free Trade Agreement since January 1, 2010, and optimistic forecasts and confidence of foreign players in the Southeast Asian economy.
However, some ministers stressed the necessary to perfect the domestic investment climate and make full use of FDI flows which are forecasted to rehabilitate at medium level here.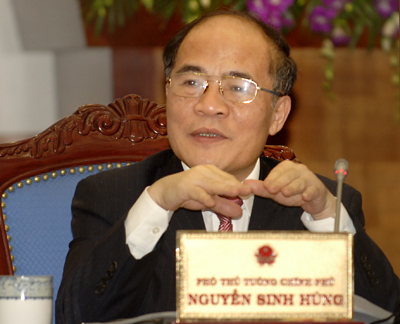 It is essential to maintain gradual recovery, says Permanent Deputy PM Nguyễn Sinh Hùng at the January regular meeting of the Government, Hà Nội, February 1, 2010 – Photo: VGP/ Nhật Bắc
Addressing the meeting, the Permanent Deputy PM required his inferiors to maintain the impetus while balancing macro-economic stability, restraining high inflation and ensuring social security.
The industrial sector, enjoying the fastest and strongest growth rates, will have to focus on better productivity, quality and competitiveness, said Mr. Hùng.
Relevant ministries, sectors and localities were urged to take initiative steps to resolve trade deficit, surmount diseases, carefully and flexibly use monetary instruments, and properly allocate the State budget.
As the Lunar New Year Festival is about to come, the Permanent Deputy PM ordered competent agencies to tighten price management, prevent goods speculation, implement thrift practice and take care of the poor and social beneficiaries.
By Kim Anh