Gov't commits to fulfillment of 2010 goals
VGP – Presiding over the Government's last regular meeting for 2009, PM Nguyễn Tấn Dũng required closer coordination among all Government members in implementing new assignments in a drastic and creative way.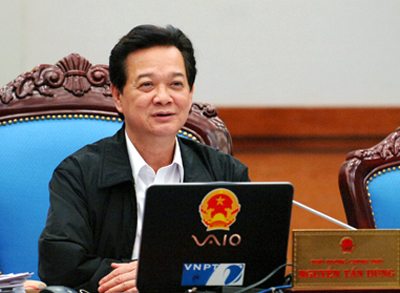 PM Nguyễn Tấn Dũng chairs the Government's December 2009 regular meeting, Hà Nội, January 5, 2010 - Photo: VGP/Nhật Bắc

The Government spent two days, January 4 and 5, listening to and discussing many important reports on various socio-economic fields in 2009.

2009 saw sharp decisions

All attendants were unanimous that, in 2009, the Government showed its sharpness in analyzing situation and impacts of the global financial crisis and economic downturn, pointing out reasonable targets and tasks, making good and creative decisions, and directing the implementation in a drastic and flexible way.

They highly appreciated the Government-initiated stimulus solutions, especially interest rate subsidies, tax reductions and duties exemptions, describing them an effective approach in order to curb economic recession and maintain a proper growth rate.

In 2009, Việt Nam was one of few countries with positive growth rate of 5.32%. Its industrial and construction sector grew by 5.52%; and services 6.63%. Macro-economic stability was secured; poverty household rate was slashed down to 12.3%.

The Government also seriously pointed out and analyzed weaknesses in its performance last year, including slow responses in managing exchange rate, interest rate, and markets of foreign currency, gold and real estates; environment pollution, food hygiene and safety; traffic accidents and jams; corruption and prodigality.

Some suggested the Government pay greater attention to planning work; performance of State-owned enterprises; economic competitiveness; infrastructure, human resource, and technology development.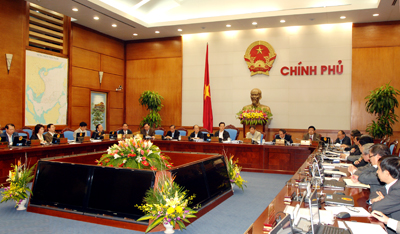 The Government opens the last regular meeting for 2009 on January 4-5, 2010 – Photo: VGP/Nhật Bắc
2010 requires flexibility, creativeness and good predictions
Concluding the meeting, PM Nguyễn Tấn Dũng asked all members of the Cabinet, ministries, sectors and local authorities to closely follow actual conditions, make accurate predictions, and pursue a drastic, dynamic, creative, careful and flexible working style in order to fulfill all socio-economic goals adopted by the NA for 2010.
The Government chief described 2010 as the year for consolidating macro-economic stability, obtaining a higher economic growth rate, and preventing the recurrence of high inflation.
He emphasized the necessity to harmonize the interrelationship between credit interest rate and international balance of payment, manage foreign currency market and national debt, and ensure capital and liquidity of the economy.
The PM urged competent agencies to spare no effort to remove difficulties, mobilize investment resources, speed up economic restructuring, and expand production, business and export.