Gov't chief wraps up working trip to Western Hemisphere
VGP - Prime Minister Pham Minh Chinh has concluded his working trip to the Western Hemisphere to attend the 78th session of the United Nations General Assembly, visit the U.S. from September 17-23 and pay an official visit to Brazil from September 23-26.
September 27, 2023 2:09 PM GMT+7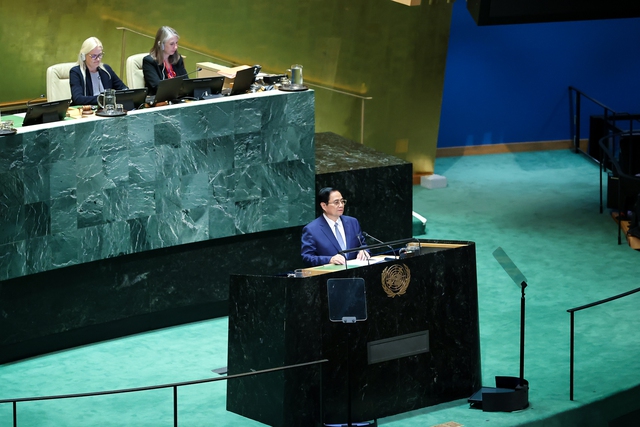 Throughout the tour, Prime Minister Pham conveyed Viet Nam's major viewpoints and specific policies to the U.S. Brazil and the international community
During his stay in the U.S. from September 17-22, the Government chief partook in a number of meetings within the framework of the 78th session of the United Nations General Assembly, including the high-level general debate, climate ambition summit, and high-level meeting on pandemic prevention, preparedness and response.

In his remarks at these meetings, Pham called for trust building and promoting cooperation bilaterally and multilaterally to address the global challenges.
Prime Minister Pham had 20 bilateral meetings with leaders of countries and international organizations, such as the UN Secretary-General, President of the UN General Assembly, President of Cuba, Prime Minister of Thailand, President of Romania, President of Slovenia, President of Finland, among others.
On this occasion, Viet Nam also established diplomatic relations with Tonga, bringing the total number of countries having diplomatic relations with Viet Nam to 193 countries.
Prime Minister Pham also had bilateral meetings with U.S. politicians and leading business leaders to concretize and implement agreements and commitments reached between senior leaders of the two countries.
He visited and delivered speeches at Georgetown University and University of San Francisco, briefing scholars and students on Viet Nam's socialist path and its foreign policy.
He reiterated the two countries' commitment to leaving the past behind and looking forward to the future, for peace, cooperation and sustainable development, noting Viet Nam and the U.S. set an exemplary role model in healing the wound of the past war.
He toured semiconductor chip manufacturers and tech giants such as NVIDIA, Synopsys, and Facebook, and had meetings with leaders of many business giants like Apple, Google, and Boeing, along with ringing the bell opening new trading sessions at New York and Nasdaq stock exchanges.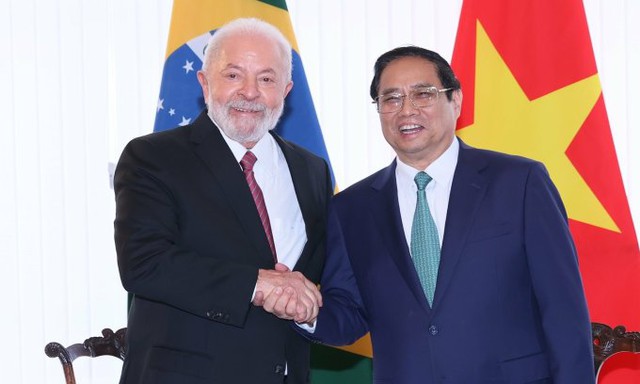 During the official visit to Brazil, the Vietnamese Government leader held talks with Brazilian President Lula da Silver and they both then witnessed the signing of a number of cooperation agreements between the two countries.

He also met with leaders of the National Congress of Brazil, several leaders of Brazilian political parties and friendship organizations, and delivered a speech at the Brazilian Ministry of Foreign Affairs. He chaired roundtable discussions with Brazilian businesses and visited some leading Brazilian firms, including Embraer S.A., a Brazilian multinational aerospace corporation.
The two countries issued a Joint Communiqué, demonstrating the stature of their cooperative relationship and charting a new course for bilateral cooperation in the coming time./.