Gov't chief warns of risk of COVID-19 spread to communities due to influx of travelers
VGP – Prime Minister Nguyen Xuan Phuc warned of the risk of COVID-19 spread to communities due to ongoing influx of incoming travellers to Viet Nam.
March 20, 2020 3:44 PM GMT+7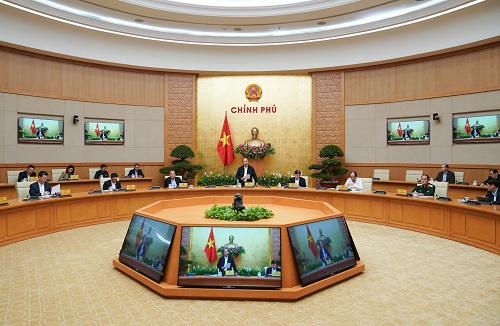 Prime Minister demands more drastic measures to combat COVID-19 - Photo: VGP
The Government chief underlined the point at a meeting on COVID-19 prevention and control in Ha Noi on Friday.
He called for more drastic participation of the whole political system to join the fight against the pandemic while encouraging people to avoid large gatherings, even asking for closure of entertainment services like karaoke bars.
He also called for further travel restrictions, including by sea, by road and by air and all entrants must be mandatorily quarantined.
Those who violate quarantine regulations must be strictly punished, Phuc ordered.
According to a report of the National Steering Committee, the world has recorded roughly 245,626 cases of COVID-19 infection in 181 countries and territories, with seven countries reporting more than 10,000 cases, nine countries reporting from over 1,000 to below 10,000, and 165 nations and territories reporting fewer than 1,000 cases.
In Europe, COVID-19 infections have been recorded in 58 countries and territories with a total of 87,108 cases and 4,084 deaths (as of March 19).
Italy continues to be the country with the highest number of infections and fatalities in Europe, accounting for 41% of the total cases and 73% of the total deaths. It is followed by Spain, representing 16% of the cases and 15% of the deaths, and France, making up 10% of the cases and 6% of the deaths.
Viet Nam has thus far recorded 87 infection cases. A total of 38,081 people who have been in close contact with confirmed COVID-19 cases or returned from epidemic-hit areas are currently under health quarantine, including 7,316 isolated at hospitals, 2,241 at other centralized quarantine arreas and 28,524 people self-isolating at home and their residential places.
Seventeen of the total cases in Viet Nam have fully recovered from the disease, while the rest are undergoing treatment, of whom two patients in severe conditions are being actively treated and seven others have shown signs of getting worse. The remaining cases are in stable health conditions.
By Vien Nhu