Gov't chief to talk with farmers about agricultural value chains
VGP – The Viet Nam Farmers' Union and the Can Tho municipal People's Committee will jointly organize a conference with the participation of PM Nguyen Xuan Phuc and farmers to seek to resolve obstacles; connect six partners; and formulate agricultural value chains.
December 05, 2019 10:21 AM GMT+7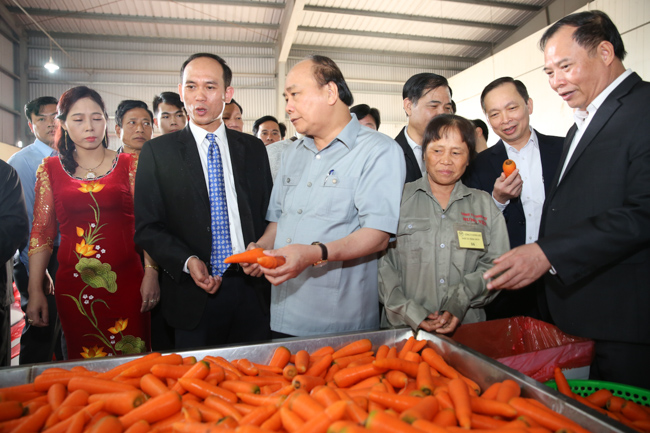 Illustration photo
The conference also expects to draw the participation of 600 delegates including ministerial and local leaders, those from the Viet Nam Farmers' Union, scientists, agricultural enterprises.
The six partners include farmers, the State, scientists, enterprises, banks, and distributors.
This will be the second time the Government chief will talk with farmers after the first held in Hai Duong province in April 2018.
The Organizing Board reported that so far, farmers sent over 2,000 questions on three key issues including (1) agricultural consumption and clean agricultural production towards high values and sustainable growth; (2) land and rural infrastructure development; climate change, and environmental pollution and (3) capital investment and social security for farmers.
Statistics showed that in 2019, the Vietnamese agricultural output included 43.6 million tons of rice, 3.3 million tons of pork; 1.3 million tons of poultry; and 7.6 million tons of bred aquatic products and seafood. Total agro-forestry-fishery export turnover was estimated at US$ 41.3 billion. The sector ran a trade surplus of US$ 9.5-10 billion.
However, 2019 was regarded as a difficult year for the agricultrual sector due to negative impacts of natural disasters, climate change, saltwater intrusion as well as the U.S.-China trade dispute.
Ministers, Secretaries, and Chairmen of some provincial People's Committees will support the PM to respond to inquiries of farmers ./.
By Kim Loan