Gov't approves Viet Nam-South Korea social insurance agreement
VGP - The Government has approved an agreement on social insurance signed between the Government of the Socialist Republic of Viet Nam and the Government of South Korea.
April 25, 2023 10:24 PM GMT+7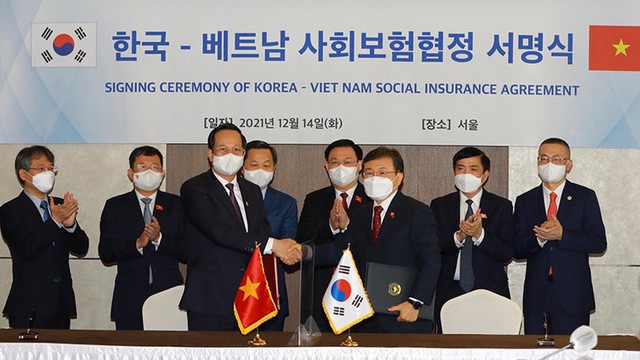 The Government tasked the Ministry of Foreign Affairs to carry out external procedures and announces and deposits the agreement as prescribed by law.

The Ministry of Labor, Invalids and Social Affairs assumes the prime responsibility for and coordinates with relevant ministries and agencies to sign an administrative deal under Article 13 of the agreement and to organize the implementation of the agreement.
This is the first bilateral agreement between the two countries in this field and the first bilateral agreement on social insurance between Viet Nam and another country.
It aims to avoid double social insurance contributions paid by Vietnamese and Korean citizens working in each other's countries.

The period of participation in social insurance payment of employees, who are Vietnamese citizens and RoK citizens, will be counted as the total time that the employee has contributed to social insurance in Viet Nam and RoK.
This total time will be the basis for the Viet Nam Social Insurance Fund and the National Pension Fund in South Korea to determine pension regime for employees.
The level of benefits that the social insurance fund of each country pays an employee upon retirement will be based on the time and the amount of contribution that he/she has paid to that fund. The calculation formula is prescribed by the laws of each country.
Notably, Vietnamese employees working in enterprises in South Korea can participate in Korea social insurance from January 1, 2022./.