Gov't announces solutions for socio-economic development in 2014
VGP – The Government has issued its first resolution in 2014 on major tasks and solutions to realize the socio-economic development and budget estimate plan for 2014.
January 05, 2014 7:48 AM GMT+7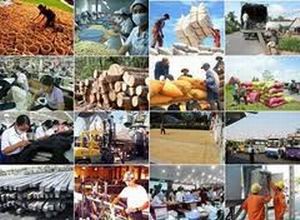 Illustration photo
The overall targets of the socio-economic plan for 2014, approved by the National Assembly include macro-economic stability, inflation curbing, and reasonable growth rate.
Accordingly, Viet Nam hopes to obtain a GDP growth rate of around 5.8%; export turnover increase of about 10%; excess of imports over exports at 6%; CPI increase of 7%; total investment for social development of around 30% of GDP, state budget overspending of 5.3%, poverty reduction of 1.7-2% and 1.6 million of new jobs.
To fulfill the above targets, the Government would focus on conducting flexible and effective monetary policy and tight fiscal policy; practicing thrift; implementing three strategic breakthroughs; creating favorable conditions for businesses to access to capital; and comprehensively restructuring credit organizations.
Under the Resolution, the Government would also speed up SOEs equitization; boost non-core divestment; shift from processing and manufacturing to production; deeply integrate into the global value chains; ensure social welfare and improve people's living standards./.
By Huong Giang