Giustozzi to push Viet Nam's futsal to higher world position
VGP — Diego Raul Giustozzi will take charge of the national futsal team in two years after a signing ceremony held on August 9 in Ha Noi.
August 11, 2022 2:37 PM GMT+7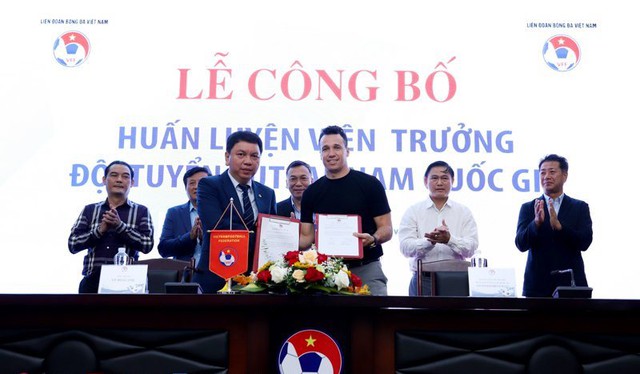 Giustozzi, 44, has arrived in Viet Nam for almost two weeks and will stay here until September 2024, following the deal between him and the Viet Nam Football Federation (VFF). Both two sides were happy with their cooperation and set targets in the coming tournaments.

"I appreciate that VFF believe in me and I will do my best to help Viet Nam's futsal develop stronger," said Giustozzi at a press briefing.
Giustozzi has called 23 players to take part in a training camp in HCM City in preparation for the coming AFC Futsal Cup in September in Kuwait.
He said his players were high quality and profession. They played with their heart and were always ready for competitions. His job was to improve their confidence which would help to beat every rival.
Futsal Viet Nam is currently No 7 in Asia and Giustozzi hoped when he leaves the country the team would be in better position.
"It was not easy to invite Giustozzi to work in Viet Nam because of his high professional requirements from us," said Tran Anh Tu, VFF's Head of Futsal Department.
"It took us almost two months to go to the final decision and of course his salary is higher than previous coaches as his quality can be seen in his CV," he said.
VFF General Secretary Le Hoai Anh said VFF would create the best conditions to support Giustozzi and the team.
Viet Nam will compete in an invitational tournament in Thailand from September 9 to 17. They will play teams from Iran, Morocco, Finland, Angola and the hosts.
It will be the warm up for the Argentinean tactician whose squad will return home for more intensive practice.
The will leave for the Asian Cup in Kuwait from September 25 to October 25.
Viet Nam is in same group with South Korea, Saudi Arabia and defending champion Japan.
At the Kuwait event, Viet Nam is expected to be in top eight teams. They then set sight on winning a slot to compete in the 2024 World Cup.
Viet Nam twice competed in the World Cup in the 2016 edition in Colombia and 2020 event in Lithuania.
Meanwhile Giustozzi is a high-profiled coach in the community of futsal.
He led Argentina to win the World Cup trophy in 2016. With the team, he also won a silver at the Pan American Games, and golds at the National Cup and Continental Cup in 2014.
He secured the trophy of the America Cup in 2015, U20 South American championship in 2016 and Intercontinental Cup in 2017, along with achievements with a range of clubs in Argentina, Italy and Spain./.