GE Oil & Gas cooperates with PetroVietnam
VGP - GE Oil & Gas, a world leading provider of oil and gas equipment and services, has signed a memorandum of understanding (MOU) with the State-owned Việt Nam National Oil and Gas Group (PetroVietnam), the third biggest oil producer in Southeast Asia.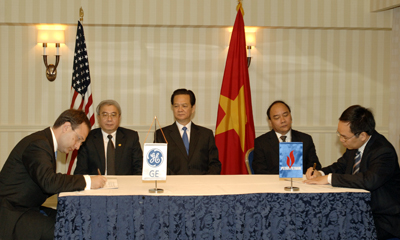 Vietnamese PM Nguyễn Tấn Dũng (center) witnesses the MOU signing ceremony between GE Oil & Gas and PetroVietnam, Washington DC, April 12, 2010 – Photo: VGP/Nhật Bắc

Mr. Claudi Santiago, President & CEO of GE Oil & Gas, said "We are dedicated to supporting the continued development of oil and gas resources in Việt Nam and are capable of delivering technologically advanced projects of significant scale to meet the growing energy needs of Việt Nam and the region."

The MOU inked in the US outlines the principles and basis of long-term collaboration between GE Oil & Gas and PetroVietnam regarding the supply of advanced oil and gas equipment, services and spare parts to optimize the total life-cycle value of key oil and gas projects. Specifically, it creates a framework to improve future transactions based on standardized contractual terms, conditions and manufacturing slot reservations, and provides for potential future cooperation on new oil and gas technologies.

According to Mr. Nguyễn Quốc Thập, vice president of PetroVietnam, the MOU will accelerate the group's already successful cooperation with GE Oil & Gas, reinforcing ít long-term partnership to benefit the efficient development of oil and gas resources in Việt Nam.

GE Oil & Gas has a strong local presence in Hà Nội and Hồ Chí Minh City for turbomachinery and drilling and production equipment and services support respectively. GE Oil & Gas provides advanced technology equipment and services to several high-profile projects in Việt Nam, such as the BP Pipeline, Dung Quất Refinery, Phú Mỹ Refinery, Cà Mau Fertilizer and Vietsovpetro.

The MOU will enable GE Oil & Gas to more effectively partner on other potential large-scale projects with PetroVietnam, including PVN Nghi Sơn Refinery, Long Sơn Refinery, Chevron Block B Off-Shore development and the Long Sơn Petrochem Complex.