Future path of Viet Nam-Germany strategic partnership
VGP – The negotiations between Viet Nam and Germany in July this year are symbolizing the future path of this new strategic partnership between our countries that shall lead us towards together tackling the issues defining our common global future and protecting global goods like the climate and the environment, said German Ambassador to Viet Nam Guido Hildner.
October 11, 2021 10:15 AM GMT+7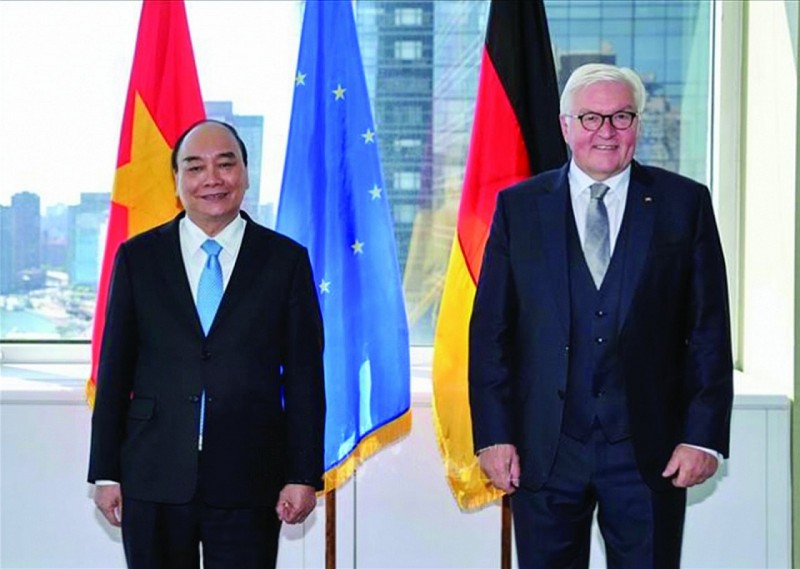 Vietnamese President Nguyen Xuan Phuc (left) meets with German President Frank-Walter Steinmeier on the sidelines of the United Nations General Assembly's 76th session, New York, the U.S., September 24, 2021
>>> Chief Representative of AHK Viet Nam: Viet Nam is biggest ASEAN trading partner of Germany
Ambassador Guido Hildner made the point in an interview with VGP reporter on the threshold of the 10th anniversary of the Viet Nam-Germany strategic partnership (October 11, 2011-October 11, 2021). Could you brief about major developments in the Viet Nam-Germany relations since the two countries elevated ties to strategic partnership level in 2011?
Ambassador Guido Hildner: The strategic partnership between Germany and Viet Nam has continuously developed and deepened over the past ten years. In these 10 years the world has changed. The political agenda is increasingly determined by global challenges that states can no longer master alone, but only together with others. The Covid-19 pandemic and climate change are examples. Germany and Viet Nam are countries that share numerous common interests, complement each other well in many areas of activity and both benefit from the cooperation.
Both countries support the international rules-based order, multilateralism, respect for international law, freedom of the seas and of trade and the principle of peaceful settlement of disputes. In July 2021, for example, they both initiated the founding of a Group of Friends of the UN Convention on the Law of the Sea in New York. This aims to create a forum in which questions and challenges related to the law of the sea can be discussed. The group now includes over 100 countries.
Viet Nam and Germany are also important actors in their respective regions and can thus promote rapprochement and cooperation between the regions. They cooperated closely in their regional chairmanship functions in 2020, Viet Nam as ASEAN Chair and Germany as EU Council President. In this way, they were able to help ensure that EU-ASEAN relations were upgraded to a strategic partnership in December 2020.
Last but not least, the strategic partnership manifests itself in special projects that are unique for Germany. These include the Vietnamese-German University in Binh Duong Province and the "German House" in Ho-Chi-Minh-City. After all, the vaccine donation of 3.45 million doses of Astra Zeneca in September alone is an expression of Germany's solidarity with Viet Nam and a great tribute to the 10th anniversary of the strategic partnership.
>>> Infographic: Viet Nam, Germany mark 10th anniversary of diplomatic ties
We have seen active presence of German companies in Viet Nam thus far, so which are the most favorite investment areas and how our trade and investment cooperation would advance?$0 $0 How do you assess potentials of investment and trade ties between Viet Nam and Germany? Which areas Germany investors interested in Viet Nam?
Ambassador Guido Hildner: Over the last 25 years, more and more German companies have been investing in and trading with Viet Nam. Among those companies are big brand names as well as many small and mid-size enterprises. About 350 German companies have built up an active presence in Viet Nam, many of them with first class production sites. Investment from Germany aims mostly at manufacturing high quality products, not just for the Vietnamese market, but also for the South East Asian region and the world market.
Already today, German invested manufacturing in Viet Nam represents a significant share of global value chains. Some German textile companies produce up to 50 % of their worldwide production in Viet Nam. The same applies for medical supplies.
The EU-Viet Nam Free Trade Agreement has been a big step forward. It is not just about eliminating tariffs and opening the markets in both directions. It is also about higher production standards, about higher social and environmental standards in our trade and investment cooperation.
The German Government regards Viet Nam as a "global partner" in development cooperation under the new BMZ 2030 strategy. How the two countries would cooperate in settling global issues including climate change, environmental protection, and global economic stability?
Ambassador Guido Hildner: Germany has identified Viet Nam as a "Global Partner". According to the new Development Cooperation Strategy 2030, "Global Partners" are important emerging economies like Brazil, China, India, Indonesia or Viet Nam who have a decisive influence on global sustainable development and climate protection and without whose full engagement the Agenda 2030, the Sustainable Development Goals (SDG) and the Paris Climate Agreement cannot be implemented. These countries are not only facing serious sustainability and climate change challenges in their own territories but have also initiated highly relevant SDG-related political strategies and instruments as well as they have developed significant political influence at regional and global level on international debates in this context.
The recent government negotiations between Viet Nam and Germany in July this year are symbolizing the future path of this new strategic partnership between our countries that shall lead us towards together tackling the issues defining our common global future and protecting global goods like the climate and the environment. On this line both countries agreed to expand their cooperation in the core themes of "Education and Sustainable Growth for Good Jobs," "Responsibility for our Planet - Climate and Energy," and "Protecting our Livelihoods - Environment and Natural Resources". Furthermore, they will cooperate in the areas of "Health/Pandemic/ONE HEALTH" and "Peace and Social Cooperation.
With additional pledges of up to €113.5 million, the German Federal Ministry for Economic Cooperation and Development (BMZ) will support Viet Nam over the next two years in implementing its sustainable development model and assuming greater global responsibility. The German Federal Ministry for the Environment, Nature Conservation and Nuclear Safety (BMU) pledged a further € 30 million for the next round of funding for the International Climate Initiative, which will support biodiversity and climate projects in Viet Nam.
Cooperation over the next two years will focus primarily on global climate change mitigation, economic integration and climate change adaptation, biodiversity conservation, and greater integration of global value chains. $0 $0In addition, Germany is supporting Viet Nam in overcoming the shortage of skilled workers and strengthening sustainable supply chains. In the context of global health protection and pandemic prevention, Germany advises Viet Nam on combating illegal wildlife trade and preventing zoonoses.
Germany has adopted policy guidelines for the Indo-Pacific region, so what is Viet Nam's position?
Ambassador Guido Hildner: In September 2020, the German Federal Government has adopted policy guidelines for the Indo-Pacific, which substantiates and comprehensively expresses Germany's commitment to the region. $0 $0Germany offers Viet Nam cooperation in all seven policy areas. We would like to continue and intensify many of our previous projects and activities. This ranges from the rule of law dialogue between the governments to personal encounters and exchanges between people in both countries. A good focal area for future joint action is, for example, strengthening multilateralism and the international rules-based order. Another one is coping with climate change and managing energy transition.
Over the past years, Viet Nam and Germany have boosted cooperation in culture and education. Could you give more information about this cooperation domain?
Ambassador Guido Hildner: Our cooperation in this sphere is diverse. The Goethe-Institute is a well-established cultural and language centre in Viet Nam hosting film festivals and exhibitions but also supporting Vietnamese artists through programs like Culture Lab or Idea Booster.
Another focus is the promotion of the German language in Vietnamese schools, especially since its introduction as a second foreign language earlier this year. The German Central Agency for Schools Abroad (ZfA) and the Goethe-Institute support a total of 17 schools across Viet Nam with teachers, training and equipment for modern German language classes. In addition, the Goethe-Institute, for example, offers numerous and varied language courses in the country. At this time much happens online due to the pandemic.
In the field of education and science, more than 7,500 Vietnamese are currently studying in Germany. We count 177 partnerships between universities in Viet Nam and Germany. In 2020, the German Academic Exchange Service (DAAD) supported more than 1,000 Vietnamese students and researchers through scholarships and other programs. In May of this year, DAAD established in Viet Nam one of four new global centers for health and pandemic prevention aiming at preventing infectious diseases and helping treat them.
Another flagship project is the Vietnamese-German University in Binh Duong Province. In April 2021, the government agreement entered into force, which puts the work of the university on a solid and sustainable basis.
Last but not least, for many years the German government has been supporting the restoration of cultural heritage in Hue together with the Hue Monuments Conservation Centre.
In Germany, the center-left Social Democratic Party (SPD) won the general election on September 26 and Chancellor Angela Merkel is stepping down after 16 years in office. Are there any possible changes in Germany's foreign policy that would produce impacts on our two countries' ties?
Ambassador Guido Hildner: German foreign policy has traditionally been characterized by continuity and stability. This is because its orientation is deeply rooted in Germany's interest in maintaining peace and developing prosperity. In addition, Germany is profoundly embedded in multilateral structures that determine political action. This ranges from the EU and NATO to the UN and its specialized agencies.
All political parties involved in the talks to form a new government in Germany have in the past been responsible for German foreign policy. They have committed to the continuity of German foreign policy.
By Huong Giang