Full speech by Deputy Prime Minister Tran Luu Quang at 28th Future of Asia Forum
VGP - Below is the full speech by Vietnamese Deputy Prime Minister Tran Luu Quang at the 28th Future of Asia Forum hosted by Nikkei in Tokyo, Japan from May 25-26.
May 26, 2023 8:48 AM GMT+7
Honourable Tsuyoshi Hasebe, President and CEO of Nikkei Inc,

Excellencies,
Ladies and gentlemen,
It is such a great pleasure and honour for me, on behalf of the Government of Viet Nam, to address the 28th Future of Asia Forum today in Tokyo, Japan. At the outset, I wish to congratulate Japan for successfully hosting the G7 Hiroshima Summit. And our forum today again asserts the growing role and responsibility of Japan on the global stage.
As the world and Asia have been incessantly confronted with daunting challenges due to lasting consequences of the Covid-19 pandemic, and amid a slower-than-expected global economic recovery, unresolved conflicts and intricate geo-political uncertainties, our forum's theme "Leveraging Asia's power to confront global challenges" is entirely relevant, and also constitutes an order of actions, putting weighty responsibilities on the shoulders of Asian countries for the sake of peace, stability and prosperity in the region and the wider world.
Ladies and gentlemen,
Looking at the regional and global landscapes, we are witnessing profound transformations coupled with significant changes, opportunities and challenges intertwined. We can affirm that Asia cannot stand outside changes of the times.
We see tremendous opportunities stemmed from the Fourth Industrial Revolution, the dramatic transformation of growth model and restructuring of regional and global supply chains, together with digital and green transition. The process of building cooperation frameworks and mechanisms associated with novel standards and production methods has been promoted. Growing green economy, circular economy and digital economy currently becomes top priorities for many countries.
However, the challenges ahead are enormous, fraught with emergent difficulties. The global economy is confronting a "lost decade" due to the impacts of epidemics, economic and financial volatilities, and unpredictable and complex geopolitical factors, potentially causing instability to the regional and global security and development. Many developing countries are at risk of "completing their roadmaps" to achieve the Sustainable Development Goals. Peace and cooperation represent a common aspiration and goal of mankind, but they are being seriously affected by strategic rivalry, decoupling and conflict. Arising non-traditional security challenges require greater resources and a more substantive and effective coordination of actions.
In that context, Asia needs to showcase its responsibility and make important contributions to effectively harnessing opportunities and concurrently seeking solutions to handle major difficulties and challenges of the times .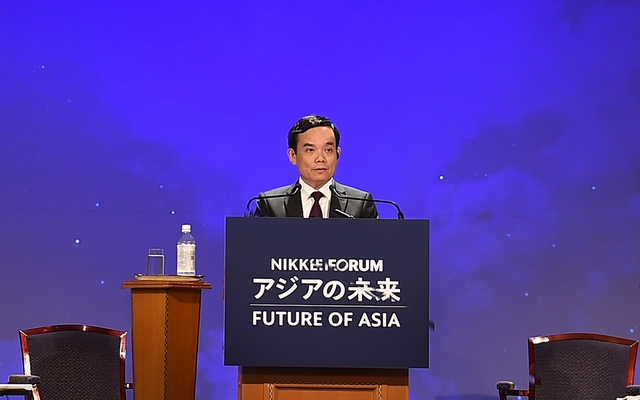 Ladies and Gentlemen,
History and reality prove that Asia is perfectly capable of taking on global responsibilities. For decades, thanks to the great efforts of countries in the region, Asia has weathered a pyramid of hardships and turbulences from economic crisis and natural disaster to geopolitical uncertainties. We can assert that Asia, with its full potential, strength and responsibility, must raise its contributions to resolving challenges facing humanities. And it would be a role model for peace, cooperation and development. Let me share with you some of my thoughts as follows:
Asia is the only continent without military conflict for decades thanks to endeavours to strengthen dialogue, cooperation and strategic-trust building.
Asia has been a key driver of global economic growth and connectivity for decades. Asia was the "backbone" of the global economy during the 2008-2009 financial crunch and the recent Covid crisis. China, India, and ASEAN are the bright spots of growth amid the global economic slowdown. Despite the gloomy outlook of the world economy, Asia is forecast to contribute 70% of global growth by 2030 [1], in which ASEAN becomes the world's fourth largest economy with a purchasing power of nearly 4 trillion USD. Asia is also a pioneer in forming regional and inter-regional economic links , such as CPTPP, RCEP and FTAs between ASEAN and its partners.
- Asia is also a leading region in the fields of innovation, making good use of new trends, digital and green transformations. The Republic of Korea, Singapore and Japan are now the champions in the Global Innovation Index. In this regard, ASEAN countries have also recorded remarkable progress in innovation, investment attraction and development of high-tech industries.
Ladies and Gentlemen,
Despite its great strengths and potentials, Asia still has a lot of works to do in order to continuously affirm its strong foothold and important role in a fast-changing world. Countries on the continent should strive for common interests of peace, stability and sustainable development. It is essential to intensify solidarity and cooperation to raise our strengths, thereby contributing to underpinning power of Asia, joining hands in building a peaceful and prosperous Asia.
With the solidarity of countries in the region for common interests, together we will further consolidate the foundations that contribute to creating and elevating Asia 's power in confronting global challenges. On this note, I wish to underline the following points:
First, Asian countries need to jointly share and realize the vision of building a rule-based international system, with the UN Charter placed at its centre. "The more difficulties facing us, the greater unity we need" on the basis of common standards, so that we can persistently promote multilateral cooperation. Asian countries, especially the major ones in the region, need to overcome their differences, look for common denominators of cooperation, and contribute to peace and stability in the region and the world. The rising role and position of Asia are aligned with the voice and responsibility to partake in reforming and improving governance efficiency of global institutions such as WTO, IMF and WB, among others. Asian countries need to strengthen exchange of views and coordination of stances on global governance. We need to support representatives of the region to be elected to international development agencies and organizations.
Second, Asia needs to strongly promote joint efforts and actions in addressing global challenges. In addition to striving to achieve the SDGs, we need to find answers to novel and non-traditional global challenges such as energy security, cyber security, human security and health security. According to the United Nations' report, Asia-Pacific is projected to complete only 17 SDGs by 2065, 30 years behind schedule . I propose that Asian countries further promote cooperation in implementing the SDGs roadmap, support a global approach in addressing development challenges, and encourage broader participation of businesses in development programs and projects, create favourable institutional frameworks and promote the Public-Private Partnership.
Third, countries in the region need to cooperate more closely and effectively for rapid, inclusive and sustainable growth; make good use of new growth drivers such as digital transformation, green transformation and innovation. Asia needs to continue promoting trade and investment liberalization; reduce protectionist and discriminatory measures on trade, investment and economic decoupling; strengthen exchange of experiences and measures to adapt to new governance criteria such as global minimum tax, carbon tax, environmental standards, etc. Developed countries in the region need to help developing countries to enhance institutional capacity, infrastructure and human resources; share technology, governance model and collaborate in developing resilient and sustainable supply chains; foster economic growth on the basis of a people-centered approach, taking good cultural values as the platform, considering solving difficulties and challenges as motivation for cooperation to rise stronger.
Fourth, leveraging Asia's power in confronting global challenges will be more sustainable as regional countries push further people-to-people exchanges and youth connections, boosting cooperation in culture, education and tourism towards bonding and sharing common values, not only for today but also for tomorrow. We can name a typical success story: the Ship for Southeast Asian and Japanese Youth Program. This program has been running for over 50 years, contributing to enhancing mutual understanding among young generations, consolidating friendship, solidarity and multifaceted cooperation among countries in the region.
Fifth , in confronting global challenges, it is necessary to ensure that the creation and consolidation of a peaceful and stable environment constitute a prerequisite for development in Asia and the world. It is also crucial to identify solidarity, cooperation, responsibility, building of strategic trust, respecting the United Nations Charter and international law, settling disputes by peaceful means as a common denominator for nations to overcome difficulties, challenges and crises together.
Accordingly, we call on the international community and partners to continue supporting ASEAN's efforts to build a peaceful, stable, cooperative and resilient Southeast Asia. The parties concerned need to strictly implement the Declaration on the Conduct of Parties in the South China Sea (DOC) and work together to conclude a substantive and effective Code of Conduct in the South China Sea (COC) in compliance with international law, especially the 1982 United Nations Convention on the Law of the Sea (UNCLOS 1982). While looking for a basic and long-term solution to the South China Sea matters, the parties concerned must exercise restraints and refrain from actions that may complicate the situation and violate the sovereignty, sovereign rights and jurisdiction of relevant countries as provided by the 1982 UNCLOS.
Having said that, we believe if countries sincerely cooperate in the spirit of equality, mutual respect, mutual benefit and win-win solutions, each country will surely become stronger, and the whole Asia will be more powerful, then differences will narrow, prosperity will increase, and Asia's role and contribution in addressing global challenges will become increasingly important. This is also the ground for building a brighter future for Asia.
Ladies and Gentlemen,
In all efforts to leverage Asia's power, Japan has always a very important role to play.
With a "Global South" vision, Japan plays a leading role in promoting initiatives and is a key connection in economic linkages, regional and global value chains. Japan is also a pioneer country to promote digital and green transformations, restore and ensure supply chain security, strengthen trade- investment cooperation, and respond to development challenges.
We support Japan's initiative on Asia Zero Emission Community (AZEC). We also endorse Japan's approach to energy transition, ensuring a balance between emission reduction and energy security, taking into account development gap among countries and ensuring fairness and rationality on the basis of reality.
I trust that with the broad vision and able leadership of Prime Minister Fumio Kishida, Japan will play an increasingly bigger role in the region and the world. Vietnam supports and is ready to work with Japan to realise cooperation initiatives and frameworks on the basis of ensuring interests of all parties, especially initiatives on food security, emission reduction and development of critical infrastructure development, to name a few.
Ladies and Gentlemen,
As a responsible member of the international community, Vietnam is committed to making its best contributions to peace, cooperation, stability and prosperity in Asia and the world.
In overcoming difficulties and challenges, with the joint efforts and consensus of entire people and business, and the support and cooperation of international friends, Vietnam's economy has recovered positively. This has been recognised by the international community. (Vietnam is one of the countries with high GDP growth rate, reaching 8.02% in 2022. GDP scale surpassed 400 billion USD, ranking 4th in ASEAN. Total goods import and export value exceeded 730 billion USD, included in the group of 30 countries and territories with the largest export value of goods in the world. In 2020, Vietnam for the first time entered the top-20 countries absorbing FDI inflows in the world).
Our view on development for the next stage is defined as follows: First, inclusive, fast and sustainable development should count on science, technology and innovation. Second, maximize human values and place people at the centre. Third, persistently build an independent, self-reliant, multilateralized and diversified economy, associated with proactive international integration with greater extensiveness, substance and efficiency. Vietnam steadfastly pursues the foreign policy of independence, self-reliance, multilateralization and diversification, being a good friend, a reliable partner, and an active and responsible member of the international community.
Vietnam prioritizes the three strategic breakthroughs in institutional improvement, human resources development and synchronous infrastructure development. We will continue to accelerate economic restructuring, industrialization and modernization based on science, technology and innovation; prioritize sustainable growth drivers such as digital economy, digital transformation, green growth and circular economy. Vietnam will responsibly implement its COP 26 commitments to climate change to achieve the goal of zero emissions by 2050.
Vietnam attaches great importance to the relations with its partners, particularly the Extensive Strategic Partnership between Vietnam and Japan. We are confident that Vietnam-Japan relationship will become a role model of partnership for development on the basis of effective implementation of cooperation frameworks and projects on trade and investment, science and technology, labor, human resources training, climate change response, green growth, new-generation ODA, critical infrastructure, food security and energy transition.
The Japanese business community has been an important driving force in promoting the Extensive Strategic Partnership between the two countries over the years. I hope that the Japanese businesses will continue to contribute to deepen the bilateral economic, trade and investment relations with greater effectiveness and sustainability. Vietnam advocates selective investment attraction and cooperation with focus on high-tech industries from Japan and other countries. We give priorities to high technology, innovation and research and development. The Government of Vietnam is committed to continuously implementing drastic and comprehensive solutions to make the business-investment climate increasingly safe, transparent and highly competitive. We will continue to facilitate and accompany the Japanese and international investors in the spirit of mutual development, ensuring "harmonious interests and shared risks"
Ladies and Gentlemen,
As a country suffering many sacrifices and losses to gain independence, freedom, peace and development as it is today, we always treasure the lessons of solidarity and cooperation. We have a Vietnamese saying "One tree can never amount to anything, three of them together can look like a mountain". Japanese people also believe that " Unity is strength, division is weakness". In the spirit of solidarity, cooperation and strengthening of strategic trust, with determination and responsibility of countries in the region, we completely trust that we can together leverage Asia's power for a bright future of the whole region and humanities.
Thank you very much./,
---
[1] 8 in 20 largest economies in the world by 2036