Flashpoint in East Viet Nam Sea and int'l community responsibility
VGP - Dr Subhash Kapila from India affirmed that the current flashpoint in the East Viet Nam Sea owes its origin to China's two major acts of aggression against Viet Nam in the last quarter of the 20th Century, namely the capture of the Paracel islands in 1974 and the Spratly islands partially in 1988.
June 29, 2014 4:31 PM GMT+7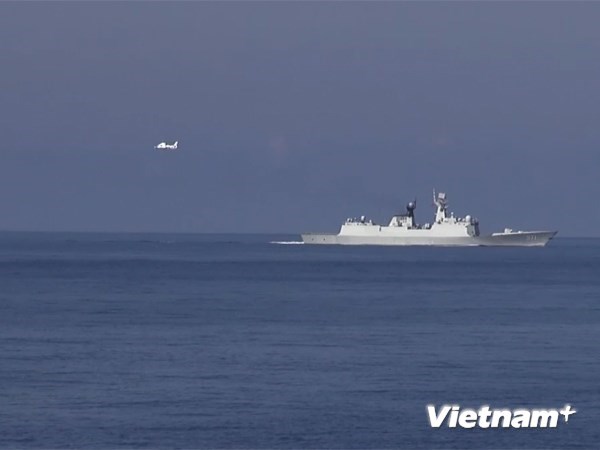 Chinese ships and aircraft brazenly operate in and above Viet Nam's exclusive economic zone
China's assertion of sovereignty over the captured islands in the East Viet Nam Sea was justified on historical claims dubiously going back to antiquity.
China has defied all attempts at conflict resolution on the specious grounds that no conflict exists in the East Viet Nam Sea and that the maritime expanse enclosed by its Cow Tongue line are sovereign Chinese territory and waters. Notably, China till date has not provided precise co-ordinates of its Cow Tongue line; ambiguity is the hallmark of China in all territorial disputes, Mr. Kapila said.
The strategic calculus of China has determined that control of the Paracel islands and the Spratly islands are military imperatives for effective maritime domination of the East Viet Nam Sea, according to Mr. Kapila.
China's provocative acts of aggression and brinkmanship in the East Viet Nam Sea continued unabated to date as evidenced by China's illegal installation of an oil rig in Viet Nam's exclusive economic zone in May 2014. Such acts are not limited only to Viet Nam but also extend to the Philippines.
Mr. Kapila noted that the above actions are prime examples of China's propensity to resort to use of military force to press Chinese territorial claims based in ANTIQUATED HISTORICAL RECORDS.
According to him, China's unfolding Grand Strategy in the Asia Pacific needs to be understood to understand China's tension escalation in the East Viet Nam Sea.
In pursuance of China's strategic objectives in the East Viet Nam Sea, considerable fortifications and military infrastructure have been developed by China.
With what China is doing in the East Sea, it is clear that stronger actions are needed instead of insipid statements because China's brinkmanship spilling into armed conflict is a hovering possibility and in that case the losers are uncountable. The whole world must act honestly and strategically to prevent that scenario and big ones from bullying small ones./.
By Kim Anh