First minister joins Q&A session
VGP - Minister of Industry and Trade Vu Huy Hoang joined the first National Assembly's Q&A session on November 17, answering public concerns over smuggling and counterfeits and the management of essential commodities.
November 18, 2014 7:24 AM GMT+7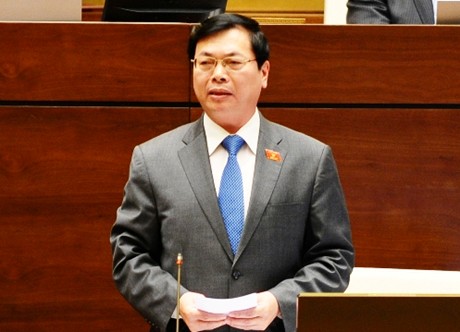 Minister of Industry and Trade Vu Huy Hoang has the first Q&A session, Ha Noi, November 17, 2014 - Photo: VGP
According to Minister Hoang, trafficking and counterfeits are pressing problems. In spite of extra effort, the number of trade frauds has been on the rise and occurred complicatedly.
The problem stemmed from the expanding domestic market, the open economy, and the rising number of smugglers.The market management forces still lacked adequate quality measurement equipment and self-responsibility.
The Minister hoped that the establishment of the Central Steering Committee 389 for Anti-Smuggling, Counterfeit Goods and Trade Fraud led by Deputy PM Nguyen Xuan Phuc would surely improve the situation.
Regarding questions on the management of power, drug, electricity and petrol prices, Minister Hoang said that the Ministry of Industry and Trade is working with inspectors of the Ministry of Finance and the Ministry of Health to investigate the enforcement of price listing.
The Minister also responded to concerns over the underperformance of large-scale hydropower plants, the support industry, and the development of bio-gas.
He refuted a rumour that high-capacity hydropower plants were running at a lower capacity than expected and were purchasing power from non-State producers and foreign suppliers, calling the claims groundless./.
By Kim Anh