First forestry festival to be held next March
VGP - Over 400 enterprises will attend the first Việt Nam Forestry Product Festival themed "Vietnamese Forestry Products: Integration and Sustainable Development" from March 26-29, 2011 in the port city of Quy Nhơn in the central province of Bình Định.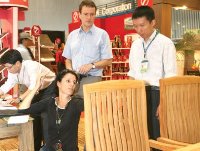 Việt Nam is expected to earn US $3.1 billion from exporting woodwork in 2010

Not only offering opportunities for investment and cooperation among domestic and foreign companies, the festival also honours scientists, managers, producers and consumers who have greatly contributed to the development of Việt Nam's forestry.

Việt Nam's woodwork export turnover surged to US $2.6 billion in 2009 from only US $219 million in 2000. The figure is expected to rise to US $3.1 billion in 2010.

Việt Nam is now ASEAN's second biggest woodwork exporter.

The festival will be held by the Việt Nam Timber and Forestry Product Association and the Bình Định People's Committee. This will become a regular national event.