First direct air route links Viet Nam, Myanmar
VGP - A direct flight between Yangon and Ha Noi was launched on September 19, marking the first regular commercial flight connecting Viet Nam and Myanmar.
September 20, 2022 11:14 AM GMT+7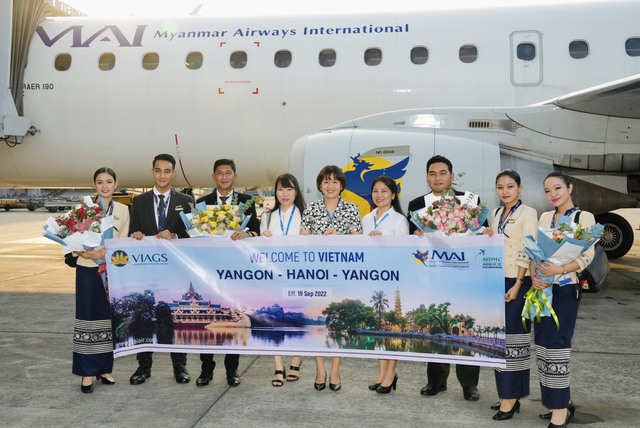 The air route , operated by Myanmar International Airways (MAI) offers flights on Mondays and Fridays.
With the presence of MAI, Noi Bai International Airport has seen 57 international and domestic airlines carrying passengers and cargo, connecting Ha Noi with 60 foreign destinations and 17 domestic places.
As planned, MAI will continue to operate a return flight linking Yangon and the southern metropolis Ho Chi Minh City on Thursdays starting on September 22, using Airbus A320 aircraft.
Viet Nam has welcomed more than 1.44 million international arrivals in the first eight months of 2022, a 13.7-fold rise from a year earlier, thanks to the reopening to foreign tourists and the resumption of international air routes, data showed.
However, the figure still nosedived 87.3 percent compared to the same period of 2019, before the COVID-19 pandemic broke out.
Of the international arrivals, 88.2 percent came to Viet Nam by air, up 18.5 times.
Viet Nam and Myanmar established diplomatic ties in 1975.
Currently, Viet Nam is the 9th largest trade partner of Myanmar and its 7th biggest investor.
In 2019, before COVID-19 flared up globally, the two-way trade hit US$1.02 billion.
Regarding investment, as of April 2021, Viet Nam poured up to US$2.2 billion in 11 projects, mainly in telecommunications, construction and banking.