First congress of overseas Vietnamese to open this weekend
VGP - Over 4 million overseas Vietnamese are an invaluable resource which should be mobilized in the cause of national construction.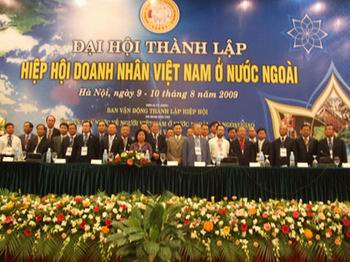 Overseas Vietnamese entrepreneurs gather in Hà Nội in order to establishe their association, August 9-10, 2009

The 1st Congress of Overseas Vietnamese will take place on November 21-23 in Hà Nội.

This is one of major events in 2009, reflecting the national unity of Vietnamese people as well as highlighting the Party and State's care for overseas Vietnamese, an indispensable part of the nation.

The organizing board expected that the Congress will create breakthroughs, including policies for overseas Vietnamese to strengthen solidarity, preserve national identities and contribute to the fatherland.

In March 2004, the PM approved the project on teaching and learning Vietnamese language among the overseas Vietnamese communities.

Under Decision 135/2007/QĐ-TTg, the PM agreed to grant visa exemption for Vietnamese nationals, foreign passport holders of Vietnamese origin and their family members since September 1, 2007 on.

Recently, the National Assembly revised the Nationality Law which helps overseas Vietnamese to regain their original citizenship. The amended Land Law allows overseas Vietnamese to own houses in Việt Nam.