Finance Minister: Fiscal policies continue to smooth development
VGP – In 2009, while facing big challenges, the finance sector made great efforts to help secure macro-economic stability and back investments for development.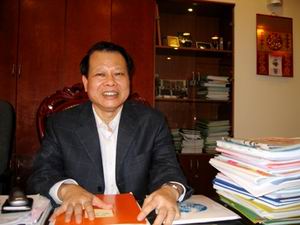 Finance Minister Vũ Văn Ninh - Photo: VGP/Giang Oanh

In a recent interview with VGP, Finance Minister Vũ Văn Ninh asserted that, in 2009, the year of global economic and financial crisis, the financial performance was laudable.

The sector made many sound proposals which helped to fruitfully realize the Government's solutions and stimulus packages, notably tax exemptions and reductions, as well as credit guarantees in order to facilitate production and business activities.

The sector also proactively mobilized all capital sources, increased budget advances for development projects; promoted corporate financial reforms; and renewed customs and tax administrative procedures.

Talking of the prospects in 2010, Mr. Ninh said that the Finance Ministry will further revitalize investment, production and business activities by perfecting policies in favor of all economic sectors while guaranteeing interests of the State, the business community and people.

The Ministry will continue to mobilize capital through issuing bonds; providing credits guarantees to small and medium enterprises running feasible projects; and pouring governmental bond capital on transport, irrigation, healthcare, education and rural infrastructure projects.

Special attention will be paid to the development of financial markets and services, said Minister Ninh. He added that the Government will speed up the equitization of State-owned enterprises; develop stock and capital markets in a stable and transparent manner; and tighten inspection work and administrative procedure reforms.

According to the Minister, in 2010, the higher growth rate may be accompanied by price pressure which is resulted from loosening fiscal and monetary policies in 2009 and impacts of price increases in the world market.

Thus, to curb inflation while securing economic stability and growth, the Government will try best to raise budget collection in order to ease budget overspending, prioritize social security policies while flexibly applying policies on credit, interest rates, and exchange rates.

Minister Ninh urged ministries, sectors and local authorities to pour capital into important and feasible projects, strictly control prices of goods and services, prevent monopoly, maintain the supplies of commodities, especially primary ones, in order to keep prices from hiking.