Fight against corruption and negative phenomena is far from over: Party chief
VGP – Party General Secretary and State President Nguyen Phu Trong has affirmed that anti-corruption will continue though it is a long and arduous fight.
February 02, 2021 3:28 PM GMT+7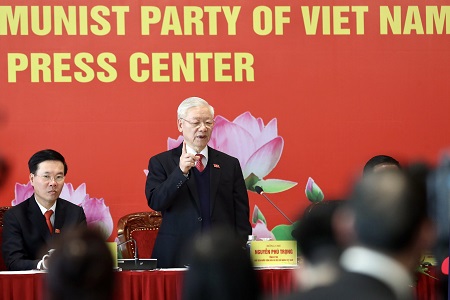 Party General Secretary and State President Nguyen Phu Trong speaks at the event
Speaking at a press briefing after the 13th National Party Congress in Ha Noi on February 1, the Party leader said corruption is a problem facing every country all the time, either on narrow or wide scope.
People with power, position and money in their hands are highly prone to corruption, negative acts and group interest, he stated.
The anti-corruption campaign was launched in 2013 with the establishment of the Central Steering Committee for Anti-Corruption, he noted, adding that since then, many members of the Party Central Committee and the Politburo members have been jailed, with assets worth billions of Viet Nam dongs having been revoked.
Party General Secretary and State President Trong quoted a saying of President Ho Chi Minh about cutting down an insect-infested branch to save the whole tree, which means punishing several corrupt people to warn off and deter others from committing wrongdoings.
Regarding the working focuses in the time ahead, the Party and State leader underscored that tasks remain heavy and difficult with many unpredictable risks and complicated developments.
By Vien Nhu