Export activities accelerate to reach preset goal
VGP - Viet Nam's total trade value was forecast to hit over US$ 700 billion. Trade surplus was projected to outstrip the preset goal of 7-8 percent, according to the Ministry of Industry and Trade.
September 22, 2022 8:19 AM GMT+7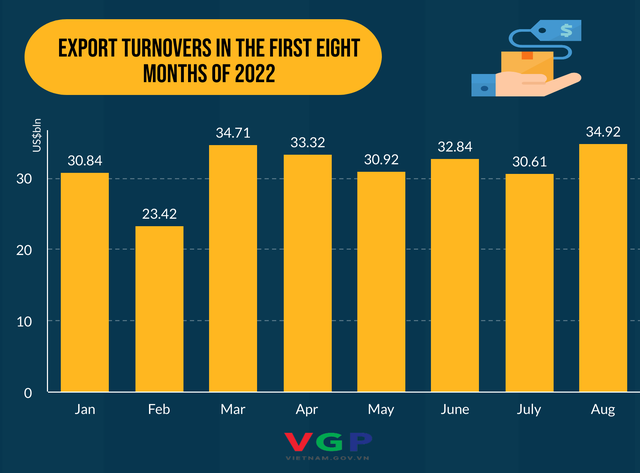 The Viet Nam Customs reported that in the second half of August (August 16-31), total trade turnover valued US$ 35.42 billion, representing an increase of 16.6 percent in comparison with the first half of August.
As of late August, trade turnover hit US$499.71 billion, posting a year-on-year increase of 15.9 percent (equivalent to U$68.69 billion).
In the final 15 days of August, Viet Nam ran a trade surplus of US$3.97 billion, bringing the figure to US$5.49 billion in the January-August period.
Deputy Director of the Import And Export Department Tran Thanh Hai attributed the positive outcomes to the Government's determination to reopen the economy since the fourth quarter of 2021.
Favorable advantages from FTAs have helped enterprises access export markets, he added.
Trade surplus is a good sign in the context that the world has been showing signs of either recession or inflation in some big markets, said Tran.
He was convinced that the trade surplus contributed to macro-economic stability and served as an impetus for trade activities in the rest of the year, he said./.