Exhibition marking painter Bui Xuan Phai's 100th birthday opens in Ha Noi
VGP – A team of students and their professor have opened an exhibition featuring their portrayals of prominent painter Bui Xuan Phai and the journey their research has taken them on around Ha Noi's Old Quarter.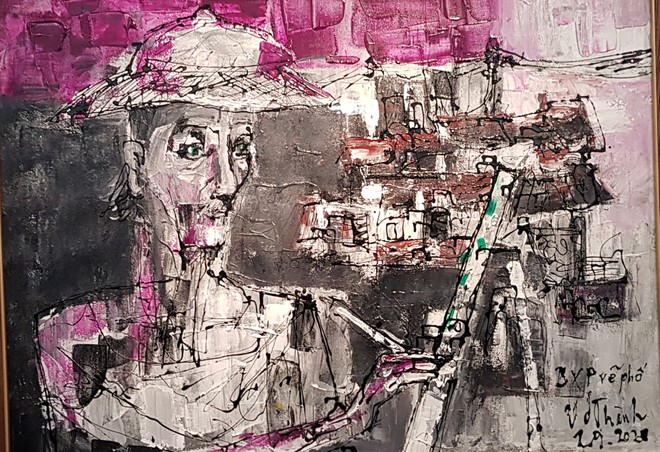 Van Duong Thanh's painting entitled Bui Xuan Phai Paints Streets is one of 100 works displayed at a fine art exhibition to celebrate iconic Phai's 100th anniversary. Photo: VGP
Van Duong Thanh and her students have produced 100 paintings that are on display at the Viet Nam Fine Art Museum to mark Phai's 100
th
birthday.
Visitors can enjoy the portraits of Phai from different angles and attitudes, depending on the artists' points of views. They can also discover the old house on Thuoc Bac Street where he was born, as well as familiar corners in the Old Quarter such as O Quan Chuong Gate, Phat Loc Alley and the Turtle Tower in Hoan Kiem Lake.
The works also take in famous destinations around the city, including the Temple of Literature, Tran Quoc Pagoda and Quan Thanh Temple.
"The exhibition is being held to celebrate his 100th anniversary. Even though I never had the chance to study under him, Phai has had a huge influence on my career because of the way he honored beauty," said Thanh.
"His advanced thoughts lifted me and played a key role," said Thanh, who was the first Asian painter to lecture fine art in Sweden.
Thanh was one of Phai's favourite models, and he painted her more than 300 times using difference materials during their 21-year relationship.
Thanh has passed on the love she had for the great painter to her students, and they have managed to produce portraits of him that are beautiful and soulful, even though he died before many of them were born.
"My generation did not get the chance to meet Phai, so to paint his portrait I had to do a lot of research to try and get to know him," said Tran Khanh Linh.
"In a portrait it is difficult to capture the details of a person. We have to make our subject animated like the real person. Just a little mistake and it will look like someone else.
"The more I read about him, the more I have come to admire him, so I wanted my work to be perfect. Phai lived during a difficult period and his life was not easy, but I found peace in his work and his love for painting Ha Noi, which is always strong and inspiring.
Thanh and her students will also be holding a painting workshop for autistic children and kids with disabilities on December 14 at the museum.
"We hope the experience will help them enjoy painting and believe in life," said Thanh, whose paintings have been exhibited at 15 international museums.
Phai (1920-1988) is considered one of the most important Vietnamese painters of the 20th century, who immortalized the corners of the capital's Old Quarter. He significantly influenced the development of contemporary modern art in Viet Nam, and his iconic works have achieved global fame.
An annual award honoring the contributions of individuals and organizations to society, culture and the arts in Ha Noi has been held in Bui Xuan Phai's name since 2008.
The exhibition will run until December 21, and entrance is free./.
By Thanh Ha