European firms maintain trust in Viet Nam's business climate
VGP – Many European enterprises continue to put their faith in the business environment in Viet Nam despite the complicated developments of the COVID-19, according to the latest Business Climate Index (BCI) survey conducted by the European Chamber of Commerce in Viet Nam (EuroCham) and Decision Lab.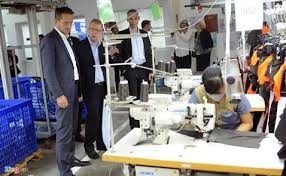 European firms maintain trust in Viet Nam's business climate
The quarterly survey aims to explore the business performance of EuroCham's member companies operating in Viet Nam, as well as their assessments of the trade and investment environment in the country.
Overall, the BCI has increased slightly over the past three months, climbing from 27% in Q1 to 34% in April and remaining stable in Q2.
This shows that business leaders' optimism in the Vietnamese market is gradually resuming after a decline caused by the first wave of COVID-19 outbreaks.
Specifically, European firms have performed better in their business activities than initially predicted when the pandemic entered its peak period. In the first quarter, only 10% of respondents expected their performance to improve in the short term.
However, the latest BCI report revealed that up to 24% of business leaders describe their business situation as "good" or "excellent" during the past three months.
Looking ahead, there are many premises to be more optimistic as about a quarter of the surveyed EuroCham members anticipate an increase in the number of orders in Q3. Meanwhile, only 28% predicted similar orders for Q2, and this will help businesses grow in the near future.
According to EuroCham Chairman Nicolas Audier, despite the evolutions of the global pandemic, the Q2 BCI survey results showed that the Government had taken rapid and effective response measures to prevent the spread of the coronavirus and keep the Viet Nam ship stable before the COVID-19 storm.
The BCI shows that travel restrictions between countries are affecting European enterprises in Viet Nam, he said, expressing his gratitude for the Vietnamese Government's efforts to work with foreign business communities and create conditions for essential workers to return safely.
"In the short term, global trade will remain unpredictable. But we fully believe that European businesses will be one of the factors that will help promote long-term economic growth in Viet Nam, especially when the EU-Viet Nam Free Trade Agreement has come into effect," Nicolas Audier stated./.
By Vien Nhu