EU provides €2.3 mil. to boost sustainable product innovation
VGP - The "Sustainable Product Innovation in Việt Nam, Cambodia and Laos" project, funded by the EU's SWITCH Asia Program with €2.3 million, aims to improve the innovative power of industry as well as the environmental and societal quality of products made in the three countries.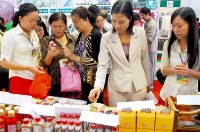 Illustration photo

The Sustainable Product Innovation (SPIN) is considered an essential element of the large-scale approach of sustainable production and consumption in the three countries.

The project will be carried out by Delft University of Technology (TU Delft) as the lead partner, together with the Việt Nam Cleaner Production Center (VNCPC), the Asian Institute of Technology in Việt Nam (AITVN), the Lao National Chamber of Commerce and Industry (LNCCI), the Cambodian Cleaner Production Program (CCPP) and the United Nations Environment Program (UNEP).

Mr. Sean Doyle, Ambassador-Head of the Delegation of the European Union to Việt Nam said that the project will help to promote sustainable production and consumption in the country, generate tangible benefits for Vietnamese business and provide practical policy inputs to the Government that is now drafting the 2011-2020 Socio-economic Development Strategy.