Eleven northern localities send health workers to support Ha Noi in vaccination, mass testing
VGP – Eleven northern localities have sent 1,327 health workers to support vaccination and 2,028 others for conducting mass testing in the capital city of Ha Noi.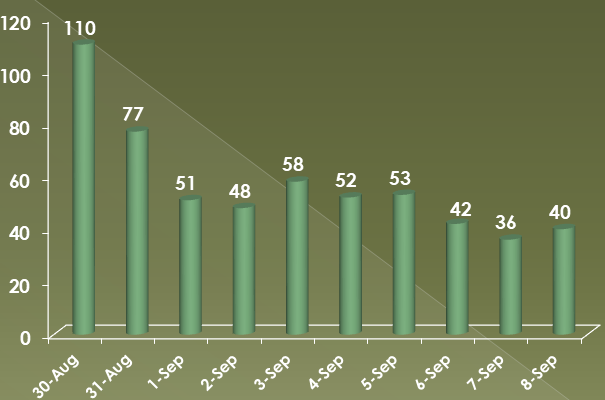 The number of daily new COVID-19 cases in Ha Noi from August 30-September 8.
Earlier, Ha Noi authorities said they would test the entire population of the city prior to September 15 to achieve the target of controlling the COVID-19 outbreak by mid-September.
The city with a population of 9 million plans to test people in very high-risk areas every two or three days, those in high-risk areas at least twice and residents in low-risk neighborhoods at least once.
The tests will allow authorities to get a comprehensive picture of the ongoing pandemic situation to decide which areas are safe enough for resumption of socio-economic activities.
Besides dispatching medical workers to take swabs, they will also deliver rapid test kits for people to perform the test themselves.
The city's authorities set the target that all local residents aged 18 and above will receive at least one shot of COVID-19 vaccine by September 15.
Statistics show around 3.78 million vaccine doses were administered in the city./.
By Thuy Dung