Electric cars and concept cars appear at Viet Nam Motor Show 2022
VGP - Electric vehicles and concept cars were a notable trend at the Viet Nam Motor Show 2022, showing that Viet Nam was increasingly catching up with new world trends.
October 27, 2022 6:44 PM GMT+7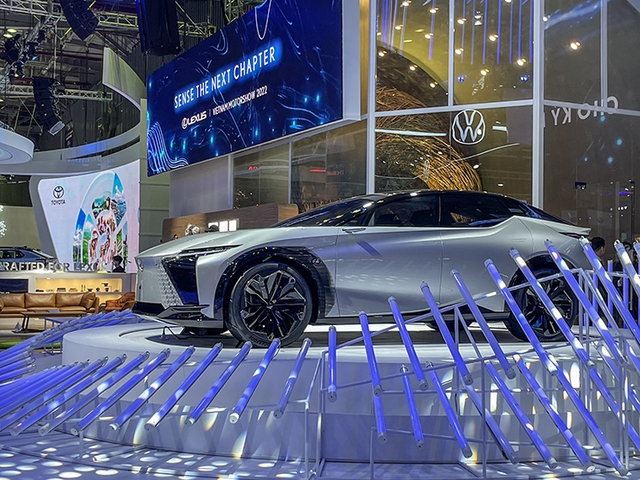 Viet Nam Motor Show 2022 (VMS 2022) officially opened on October 26 after two years of absence. Fourteen car manufacturers participating in VMS 2022 brought 120 new models with many electric and concept cars.
Mr Laurent Genet, a representative of genuine auto importers, assessed that Viet Nam has great potential in developing the automobile market.
This is both an opportunity and a challenge for auto manufacturers and importers in building customer loyalty and meeting the increasingly demanding needs of the market.
Viet Nam's automobile market became increasingly exciting and fast-paced with the general trend of the world, the most obvious being the green car trend. Many car manufacturers began to bring in electric and hybrid models to serve domestic demand.
As of August 2022, the country had about 3,000 electric cars manufactured, assembled and imported, an increase of more than 20 times compared to the number of electric vehicles in 2019. Currently, there are about 1.8 million electric motorbikes and scooters in operation.
Notably, Viet Nam has certain advantages when converting cars using internal combustion engines to electric vehicles, especially when the Government has policies to support the production and assembly of electric cars.
However, according to the Government's roadmap, many solutions related to policies, infrastructure and markets are needed to switch from cars using internal combustion engines to electric vehicles.
The seminar "Introduction of green technology solutions to reduce emissions and protect the environment" will be held at the Viet Nam Motor Show 2022, showing the trend of car manufacturers in the context of the substantial electrification of the automotive industry./.