Economist suggests measures to help Viet Nam strengthen growth prospects
VGP - World Bank (WB) Lead Country Economist and Program Leader for Equitable Growth, Finance and Institutions in Viet Nam Andrea Coppola underscored the importance of structural policies to continue strengthening Viet Nam's long-term growth prospects at the 5th Viet Nam Economic Forum.
January 09, 2023 3:01 PM GMT+7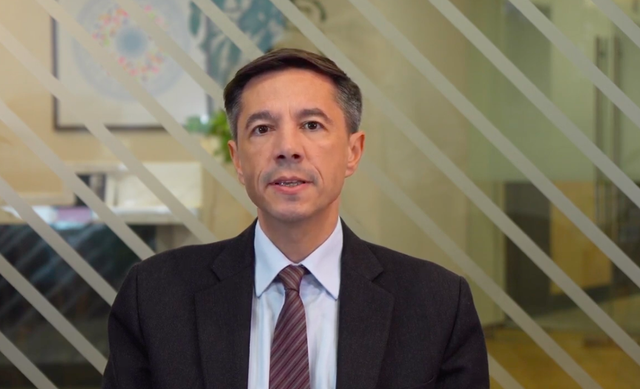 Speaking at the event, the WB economist said that the 5th Viet Nam Economic Forum offers a great opportunity to discuss the challenges posed by the global economy and possible policy implications for Viet Nam to mitigate macroeconomic risks while promoting economic growth.
Weak global economic outlook and heightened risks may have significant implications on the Vietnamese economy in terms of exchange rate pressures, financial sector vulnerabilities, higher inflation and slower economic growth in 2023.
Authorities have a very difficult task and a very important role to play to mitigate the impact on the Vietnamese economy and transform this challenging situation in an opportunity to modernize and further strengthen economic management and promote macro-economic stability and economic growth.
The Economic Forum provides an opportunity to discuss possible policy response in such a challenging context.
Monetary and Financial Policy Challenges
According to Andrea Coppola, to address persistent exchange rate pressures generated by additional monetary tightening in the U.S., the State Bank of Viet Nam (SBV) could consider allowing further flexibility in the exchange rate, including through a quicker pace of devaluation of the reference rate.
Given the persistence of exchange rate pressures, direct foreign exchange sales could be used very cautiously to preserve international reserves.
In case faster depreciation leads to a significant increase of inflation and inflation expectations rise, SBV could consider using again the reference interest rates.
However, policy room is limited as interest rates are already high. Close coordination between monetary and fiscal policy would help to minimize further increases of the interest rates.
In medium term, authorities could modernize Viet Nam monetary policy by promoting a gradual transitioning towards an inflation targeting regime.
To address liquidity challenges in the banking sector, in case some banks become more vulnerable and require support, SBV could help to restore confidence by providing emergency liquidity assistance provided that banks have a plan in place to restore a satisfactory liquidity position, without continuous reliance on SBV lending.
In the medium term, Viet Nam's bank resolution framework could be enhanced to further enhance financial stability and a consolidated supervision framework could be strengthened to effectively monitor and assess systemic risks across markets, including banking, capital markets and higher-risk sectors such as real estate.
Fiscal Policy Challenges
As for fiscal policy, the main challenge in 2023 will be to find a way to keep promoting economic growth in an inflationary context. As mentioned, fiscal and monetary policy coordination will be critical to manage the trade-off between growth and inflation objectives.
Authorities could consider reining in public expenditure while prioritizing expenditures on human capital development and accelerating the implementation of selected public investments with the highest expected impact on economic growth.
Strengthening mechanisms that prioritize and evaluate the efficacy of public projects can enhance the quality and efficiency of public spending.
Policies that aim at strengthening public procurement practices, administrative capacity, and transparency can also bolster public investment efficiency, foster a more favorable business climate for private investment, and help reinvigorate productivity.
Public investment management efficiency could also be improved by further strengthening project quality at entry and costs and benefits estimation, including when considering land acquisition and resettlement costs.
Finally, in case further shocks require providing fiscal support to protect most vulnerable households, targeted transfers would be more effective and create less inflationary pressures than untargeted tax cuts or subsidies.
Structural Policy Challenges
Andrea Coppola underscored the importance of structural policies to continue strengthening Viet Nam's long-term growth prospects.
To promote productivity growth, structural policies can promote a more efficient use of Viet Nam's main assets: its productive capital, its human capital, and its natural capital.
To promote an efficient allocation of capital, encouraging competition and easing firm entry and exit will help resources flowing to the most innovative and productive firms.
It is also essential to promote a supportive business environment that allows productive firms to get access to finance and it is founded on transparent regulations and legal protections.
As for human capital, Viet Nam scores well on basic education, but advanced university level and vocational-technical skills are under-supplied. Skills upgrading will raise wages and boost domestic consumption.
Finally, addressing environmental-and climate-related challenges is a priority in Viet Nam's socio-economic development strategy.
Sound investments aligned with climate goals in priority areas such as transport and energy, climate-smart agriculture and manufacturing, and land and water systems, can all boost long-term growth, while also enhancing resilience to climate change and natural disasters.