Economic restructuring yields positive outcomes
VGP – Thanks to drastic solutions, economic restructuring is yielding positive outcomes, said PM Nguyen Tan Dung at the NA's question-answer session on Wednesday.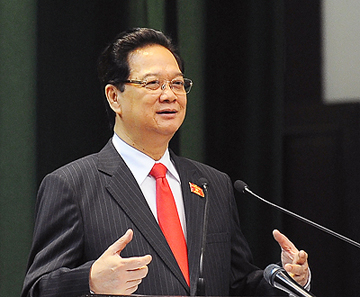 PM Nguyen Tan Dung at the 4th session of the 13th National Assembly, Ha Noi, November 14, 2012 - Photo: VGP
Of the solutions, the Government has designed the overall project on economic restructuring in combination with growth model renovation. In 2012, the Government focuses on restructuring investment, State-owned enterprises (SOEs), and credit organizations.
Development of legal framework is considered the key measure for effective public investment restructuring. Accordingly, the Government has proposed amendments to the Law on State Budget, Public Investment Law and others to enhance management over State budget, Government bonds and investments of SOEs.
The volume of public investment will be reduced while the efficiency of pubic investment will be improved, said PM Dung, adding that the Government is determined to overcome scattered investment.
The Government also tasked ministries and agencies to perfect mechanisms in order to enhance the responsibilities of investors, contractors, consultants for the quality and process of investment projects.
Investment allocation mechanisms will be renovated and investment decentralization mechanisms will also be improved to ensure united management from central to local level.
In the short term, capital will be steered to important and ODA projects. New projects will be strictly controlled and capital sources will be clearly identified. Projects without clear capital sources will be cancelled or transformed.
As capital demand is huge, the Government will focus on renewing investment structure in combination with foreign investment attraction and supplementation to investment mechanisms (BT, BOT, PPP) so as to lure more resources to infrastructure development, production, and economic transformation.
SOEs restructuring
In July this year, PM Dung approved the project on SOEs restructuring. Accordingly, the Government has reviewed and classified State-run enterprises to decide the State capital proportion in these enterprises.
Equitization has been carried out in accordance with preset roadmap. SOEs will have to compete equally with those of other economic sectors.
The Government also put a stop to pilot establishment of economic groups and directed to review of the current groups which were asked to design their own restructuring plans and withdraw capital from non-core business lines.
It is quickly finalizing a new Decree on decentralizing rights, responsibilities and obligations of the owners of State capital in SOEs. The Decree will clearly stipulate specific rights, responsibilities and obligations of the Government, the Prime Minister, ministries, provincial People's Committees, Members' Councils and representatives of State capital.
Besides, the Government will promulgate a separate decree on operation and organization of each economic group and corporation, review the implementation of the 2005 Law on Enterprises and establish a proper legal framework to manage SOEs effectively.
Restructuring of credit organizations
In a bid to establish a safe and effective system of credit organizations, PM Dung approved the project on restructuring credit organizations with a clear roadmap.
Between 2011 and 2015, the Government will focus on cleaning up financial status, enhancing the capacity and improving the effectiveness and safety of credit organizations.
Up to now, six commercial banks have been re-arranged and operated stably while depositors' rights have been ensured.
In the coming time, the Government will continue improving management criteria for credit organizations./.
By Huong Giang