Economic confidence at household and national levels increases: PAPI 2022
VGP - Around 66.1 percent of respondents viewed the national economy as "good" in 2022–a 19.4 percent leap from a year earlier, according to the 2022 Provincial Governance and Public Administration Performance Index (PAPI) Report.
April 13, 2023 7:19 PM GMT+7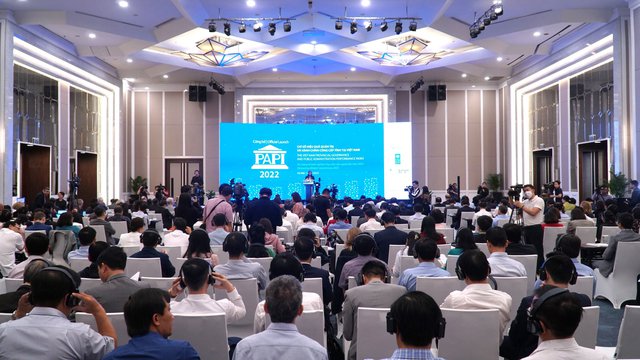 Viet Nam's efforts to overcome the socio-economic impacts of the unprecedented health crisis in 2022 translated into increased economic confidence at household and national levels.
There was a 13.7 percent drop in citizens assessing conditions as "bad" from 19.8 percent in 2021 to only 6.1 percent in 2022. Similarly, at the household level, fewer citizens reported their economic situation was "poor" (11.4 versus 15.3 percent in 2021).
Compared to 2021's findings, 33 provinces did significantly better in Participation at the Local Levels, 18 in Transparency in Local Decision-making, and 30 in E-Governance.
However, 29 provinces performed significantly worse in Environmental Governance, 18 in Control of Corruption in the Public Sector, and 18 in Public Service Delivery, respectively.
Addressing the event, UNDP Resident Representative in Viet Nam Ms. Ramla Khalidi said that PAPI's mission is to monitor the Government's implementation of development and policy agendas, thus contributing to enhanced responsiveness, transparency, and accountability of public institutions.
This 2022 PAPI Report provides a source of reliable evidence-based data for central and local authorities to review their performance in the key areas of governance, public administration and public service delivery, she noted.
The PAPI is a policy monitoring tool that assesses citizen experiences and satisfaction with government performance at the national and sub-national levels in governance, public administration and public service delivery.
With a record 16,117 respondents randomly selected from all of Viet Nam's 63 provinces and cities, PAPI is in a unique position to deliver invaluable insights into government performance at all levels two years into its 2021-2026 term and actualize the 2023 legislative agenda.
In total, 178,243 Vietnamese citizens nationwide have been directly interviewed for PAPI since 2009.
PAPI measures eight dimensions: participation at local levels, transparency, vertical accountability, control of corruption, public administrative procedures, public service delivery, environmental governance and e-government.
PAPI is the result of collaboration between the Center for Community Support and Development Studies (CECODES), the Centre for Research and Training of the Viet Nam Fatherland Front (VFF-CRT), Real-Time Analytics and the UNDP.