E-Gov't index: VN eyes top four ASEAN countries
VGP – The Government has set goal to raise e-government index by 10-15 places by 2020, making Viet Nam one of the four leading countries in ASEAN in the UN e-government rankings by 2025.
March 09, 2019 4:05 PM GMT+7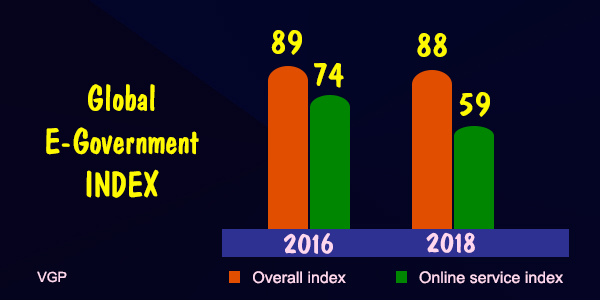 Viet Nam's current Global e-government index
This is
part of
the Government's latest
Resolution No. 17/NQ-CP defining a number of task and solutions on e-government development until 2020 and orientations towards 2025.
In 2019-2020 period, an axis for integrating national documents using advanced global technologies will be promptly developed to form a foundation for integrating and sharing national data.
The resolution lists the goal to have 20% of residents and businesses joining e-government system authenticated and unified electronically on all information systems of the authorities from the central to local levels.
The Government also expects to raise the rate of online services at level 4 to least 30% and 50% of the ministerial and provincial public service portals provide interfaces for mobile devices.
Residents and businesses are expected to receive assistance as they engage in public services.
Six key solution sets
The Government figured out six sets of solutions to realize the foresaid goals as follows.
(i) Establishing and improving institutions for the development of e-government.
(ii) Developing technological foundations for the development of e-government in accordance with the global trends.
(iii) Ensuring close combination between ICT application and administrative reform, innovation of working methods towards a digital economy.
(iv) E-government development must be closely associated with ensuring information safety, cyber security, national security, and protection of personal information.
(v) Guaranteeing resources for e-government development.
(vi) Developing a mechanism to guarantee the implementation of the resolution./.
By Thuy Dung