DPM holds phone talks with U.S. Secretary of State
VGP – Deputy PM, FM Pham Binh Minh on January 6 held a phone talks with U.S. Secretary of State John Kerry to discuss the bilateral relations and issues of regional and mutual concerns.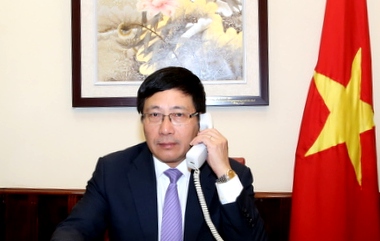 Photo: VGP
The two sides initiated that 2015 was a successful year of the two nations' bilateral relationship, consenting that the two sides need to closely cooperate to consolidate the relations and promote cooperation, making their Comprehensive Partnership more productive.
The two leaders discussed issues in the Asia-Pacific, including the East Sea issue, supposing that the ASEAN-U.S. relations have made great progress in 2015, especially after establishing the Strategic Partnership relations.
In the future, the ASEAN nations and the U.S. need to actively cooperate to develop the relationship, they said.
By Thuy Dung