DPM highlights importance of agriculture at Growth Asia Forum
VGP – Agriculture is the key economic sector of most of the nations in ASEAN and agricultural-aquaculture-forestry production in the region not only ensures food security for the region with 650 million people but also guarantees global food security.
September 11, 2018 4:06 PM GMT+7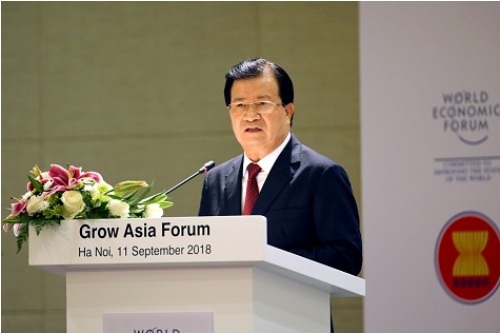 Deputy PM Trinh Dinh Dung attends the opening ceremony of the Growth Asia Forum, one of the events of the World Economic Forum on ASEAN, Ha Noi, September 11, 2018 - Photo: VGP/Nhat Bac
Deputy PM Trinh Dinh Dung made that statement at the opening ceremony of the Growth Asia Forum, one of the events of the World Economic Forum on ASEAN, which is held from September 11-13 in Ha Noi.
Agricultural cooperation is regarded as one of most crucial contents of the ASEAN Economic Community (AEC), which aims to improve the agricultural products' capacity to entering market, set up connection link of agricultural products and enhance the participation and interests for farmers, he added.
He asked to boost strategic cooperation in ASEAN through bilateral, multi-lateral and regional cooperation, establish potential connections in agriculture and encourage direct investment and strategic partnership in agriculture between producers, customers and businesses.
All the nations in ASEAN will be supported to increase 20% agricultural output, reduce 20% of carbon emissions and lessen the poverty reduction by 20% after a decade till 2030, which is defined in the World Economic Forum's New Vision for Agriculture initiative.
The goal is launched through the connections between related sides including the Government, business and farmers, especially in form of the public–private partnership (PPP).
According to the Viet Nam's agriculture restructuring plan till 2020, the Government has set agriculture as center for sustainable economic development, responding to climate change and prosperous new rural establishment, said Mr. Dung, adding that science-technology and investment in form of PPP are two factors to realizing sustainable goals of agricultural and rural development.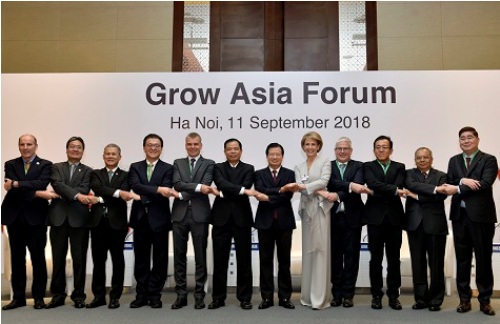 Photo: VGP/Nhat Bac
The Deputy PM highlighted the role of business in value chain, playing roles in production, processing and consumption of agricultural products.
He called the private sector to further join in agriculture and exploitation of modern technology of the fourth industrial revolution for a more modern, effective, inclusive and sustainable agriculture sector.
He expected that managers, specialists and businessmen will share experience in renewing production and investment in agriculture, applying achievements of science-technology and the fourth industrial revolution in smart agricultural production to improve farmers' lives and make contributions to ensuring global food security in the context of climate change.
The event attracted the participation of ministries in charge of agriculture from the ASEAN nations, leaders from multinational and global corporations, enterprises investing in agriculture in ASEAN in general and ones operating in Viet Nam in particular.
Delegates discussed crucial topics on agricultural finance, renewing digital technique in agricultural production, agriculture with the fourth industrial revolution, exact technology in agriculture, low-carbon agriculture and conversion of the agricultural labor.
By Thuy Dung