DPM Hai visits Formosa's project in Ha Tinh
VGP – Deputy PM Hoang Trung Hai on Wednesday made a fact-finding tour to the iron and steel complex and Son Duong deep-water port project funded by Formosa group in the central province of Ha Tinh to share difficulties faced by the relevant enterprises following the recent extremist actions there.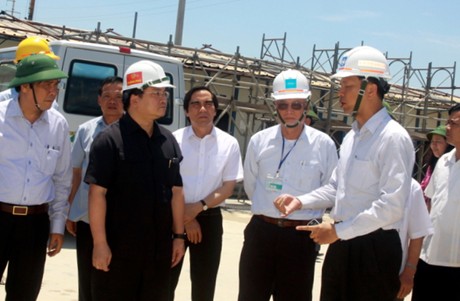 Deputy PM Hoang Trung Hai at the Formosa project site, Ha Tinh, May 21, 2014 - Photo: VGP
According to the local authorities' report, on May 14, residents in Ha Tinh gathered to denounce China's illegal installation of the drilling rig Haiyang Shiyou-981 in Viet Nam's waters.
Some workers came to the project site. Due to contradictions among groups of workers and being excited by extremists, scuffles broke out among these groups, causing property and human damages to Formosa group and contractors (three people dead and 149 others injured).
Competent agencies and especially Ha Tinh authorities timely took drastic measures to stop the scuffles and conduct extensive investigations. Many ringleaders were arrested.
Now the situation has been put under control.
As of May 20, 33 enterprises and contractors; some 7,385 laborers, including 274 foreigners (32 of them are Chinese) returned to work at the project site.
Director General of the Formosa project, Yang Hong Zhi said Formosa group always considers Viet Nam as a long-term and key investment destination. He went on to say that the past extremist actions were regrettable and caused damages to the project.
Formosa group spoke highly of the Vietnamese Government's recent measures to ease difficulties against foreign investors and hoped for early instructions to help the company surmount the consequences and resume progress.
During his tour, Deputy PM Hai and relevant enterprises inspected the project site and directly discussed measures to support these enterprises.
The Deputy PM restated the Vietnamese leaders' consistent stance that the success of foreign investors is the success of Viet Nam.
For the past incidents, Deputy PM Hai affirmed that the incidents were totally caused by saboteurs. The Vietnamese Government has quickly directed ministries, agencies and localities to take practical measures to help enterprises overcome the damages. He said that most of the damaged enterprises have resumed production.
The Vietnamese Government pledged to take all necessary measures to ensure the absolute safety for foreign-invested projects in Viet Nam, including the Formosa's one, affirmed Deputy PM Hai, adding PM Nguyen Tan Dung on May 20 assigned inferior levels to assist the damaged enterprises to overcome the consequences.
For foreign-funded projects in Ha Tinh, Deputy PM Hai tasked ministries, agencies and the locality to immediately arrange forces to protect the absolute safety of laborers in Vung Ang Economic Zone to make sure that such incidents will not repeat.
Deputy PM Hai also hoped that Formosa would closely coordinate with the competent agencies of Viet Nam for early resumption of the project./.
By Huong Giang