Diverse activities to celebrate Tet in Ha Noi
VGP - A wide range of festive and cultural activities are to be held in Ha Noi in celebration of the Lunar New Year festival (Tet) from January 28 to February 15.
January 27, 2022 9:32 PM GMT+7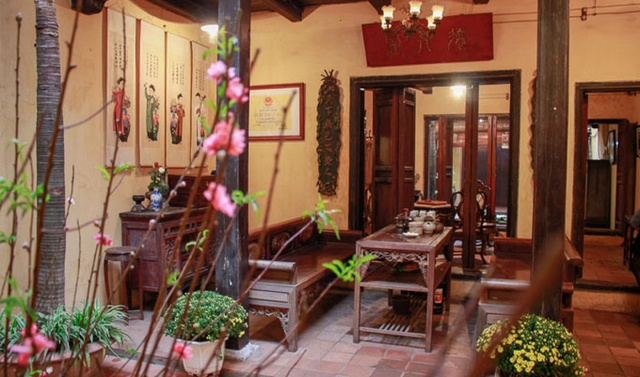 They include a Tet pole-raising ceremony, cultural exchanges, and a painting exhibition opened by a group of Ha Noi artists at the Ha Noi Old Quarter Culture Exchange Center.
At Heritage House on No 87 Ma May street, an old Tet space of a Hanoi family will be fully recreated, together with traditional music programmes.
Meanwhile, Hang Luoc Tet flower market will also be recreated near Phung Hung mural street where artisans and craftsmen introduce traditional handicraft products such as Dong Ho folk paintings, Hang Trong paintings, Kim Hoang paintings, and calligraphic works. The Tet flower market is expected to last until the end of January 31.
At the Hoan Kiem Lake Cultural Information Center, an exhibition will be held as part of efforts to introduce installation art through works made from recycled materials. The exhibition will run until February 15.
Meanwhile, a series of royal rituals, which used to be held on the occasion of Tet in the past, have been re-enacted by the Thang Long-Ha Noi Heritage Conservation Centre in collaboration with the Thang Long Cultural Heritage Association at the Thang Long Imperial Citadel in Ha Noi.
In order to preserve and promote the value of Thang Long heritages, the centre has studied and recreated royal ceremonies on the occasion of the Tet festival.
Normally, Tet is considered to officially start from the 30th day of the last lunar month, but for Hanoians, Tet comes a lot earlier, about one week before that point of time.
That is when the family packed offerings, flowers, incenses and sticky rice, etc. preparing for a visit to homes of deceased ancestors or parents. The deceased are always remembered by their descendants, and their souls are invited to return home to celebrate and reunite with their families for Tet holiday.
Tet Nguyen Dan, to give it its full name, heralds the spring, a time when heaven and earth are traditionally in harmony, the weather gets warmer, trees and flowers bloom. It marks an interlude when people can enjoy a brief respite after a year of hard work.
Tet is also a period of cosmic renewal, when a new spirit of energy rises. This cycle has given rise to some delightful customs; for examples, during Tet every deed must spring from the best intentions, as an augury for all actions taken during the next 12 months.