Deputy PM meets UN Secretary-General, foreign leaders in Switzerland
VGP - Deputy Prime Minister Tran Luu Quang had bilateral meetings with the Secretary-General of the United Nations (UN), the Irish Deputy Prime Minister, the Venezuelan and Norwegian Foreign Ministers in Geneva, Switzerland on February 27.
February 28, 2023 6:51 PM GMT+7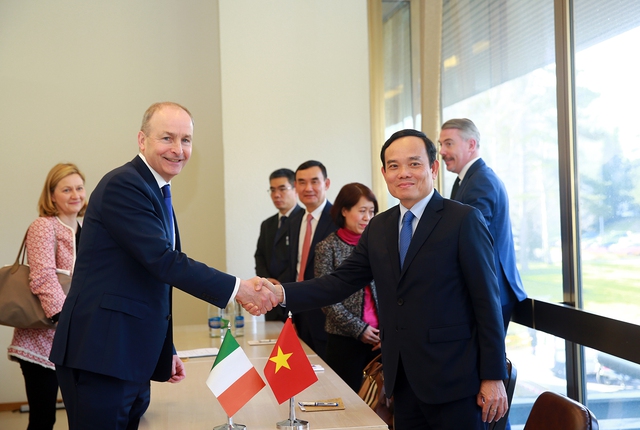 These meeting took place on the occasion of the Deputy Prime Minister's attendance at the high-level segment of the 52nd regular session of the UN Human Rights Council.
* At the meeting with UN Secretary-General Antonio Guterres, Tran reiterated that Viet Nam strongly advocates the multilateralism and the central role of the UN in global governance and in coordinating efforts to address common challenges.
He suggested both sides continue bolstering cooperation and launching cooperative orientations in line with their priorities, including outcomes reached during the UN Secretary-General's official visit to Viet Nam in November last year.
Antonio Guterres, for his part, asserted to continue making efforts to enhance the relationship between the UN and Viet Nam.
* During his meeting with Irish Deputy Prime Minister, Minister for Foreign Affairs and Minister for Defence Micheál Martin, the Vietnamese leader asserted that Viet Nam attaches importance to promoting the multi-faceted relations with Ireland.
He recommended both sides increase delegation exchanges at all levels, particularly high-level ones, proposing the Irish Government facilitate the entry of Vietnamese products into its market.
The Irish Government hopes to further strengthen the cooperative ties with Viet Nam, particularly in fields of economics and trade, noted Michéal Martin.
Both sides discussed ways to continue fostering collaboration and mutual support at multilateral forums, including the UN Human Rights Council.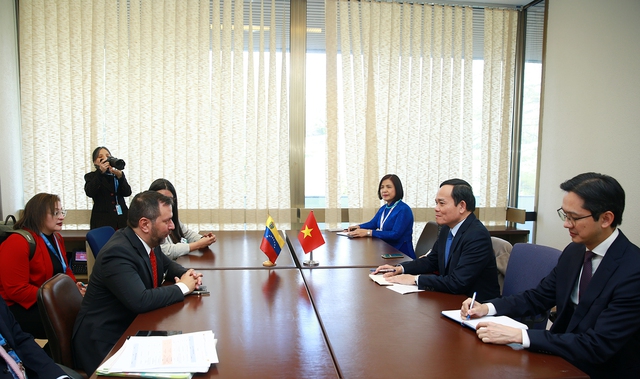 * The Vietnamese Deputy Prime Minister and Venezuelan Foreign Minister Yvan Gil Pinto expressed their delight on the fruitful development in the bilateral relations over the past 35 years of diplomatic ties and 15 years of comprehensive partnership.
Viet Nam treasures the traditional friendship relations with Venezuela, underlined Tran, proposing both sides boost delegation exchanges at all levels, effectively maintain bilateral cooperation mechanisms and increase political trusts.
Yvan Gil Pinto affirmed that Venezuela expects to endorse cooperation with Viet Nam, remarkably in all spheres of economics, trade, agriculture and energy.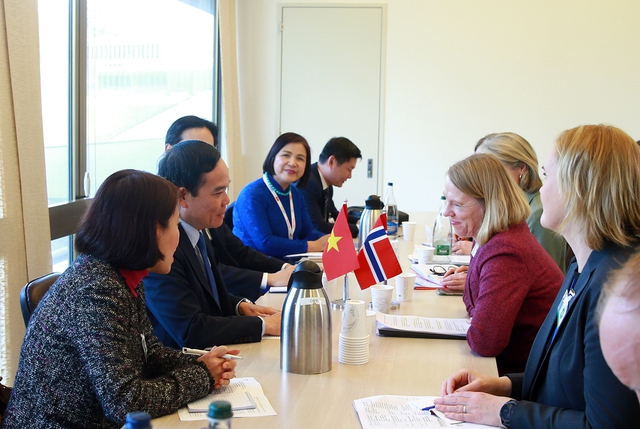 * At his meeting with Norwegian FM Anniken Huitfeld, Tran assured that Viet Nam attaches importance to the traditional friendship and multi-faceted cooperation with Norway.
He suggested both sides establish a joint committee on economic and trade cooperation, urging Norway, as a country coordinator, to soon conclude negotiations, sign and realize the Free Trade Agreement between Viet Nam and the European Free Trade Association (EFTA) consisting of Iceland, Liechtenstein, Norway and Switzerland.
Both sides areed that the two countries should expand collaboration, not only in terms of trade and investment, but also in fields of clean energy, renewable energy, sustainable ocean economy and effective implementation of commitments made at the COP26.
Anniken Huitfeld underscored that Norway is willing to work with Viet Nam in promoting bilateral trade and investment ties as well as other areas.
They pledged to step up close coordination and mutual support at international forums, especially when both sides become members of the UN Human Rights Council during the 2023-2025 tenure.