Deputies review first half economic performance
VGP – The National Assembly Standing Committee reviewed the country's socio-economic performance in the first six months and discussed measures to realize 2011 development plan during its 41st working session, which opened on June 29.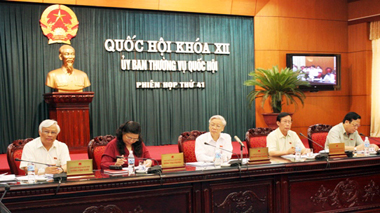 Party General Secretary and NA Chairman Nguyễn Phú Trọng (middle) chairs the 41st working session of the National Assembly Standing Committee
According to a Government's report, there were positive signs in the reviewed period, with industrial production expanding at 14.3%, budget collection increasing, export turnover tripling the preset target, and total retail sales of goods and services growing robustly,.
State budget overspending fell down to VND 27,780 billion - the lowest figure recorded in the first half in recent years, said Minister of Planning and Investment Võ Hồng Phúc.
Most noticeably, foreign currency and gold markets were stabilized, consumer price index was slowed down, and public investment was cut or reduced except for the fields of agriculture and rural development, Minister Phúc said.
The Government had taken effective measures to slash down price hikes in the real estate market while pouring more investment into social welfare.
It, however, frankly pointed to shortcomings and weaknesses that needed to be addressed, including high inflation, low GDP growth, and downsizing securities market.
For the second half, the Government plans to focus on regulating monetary and fiscal policies in a bid to rein in inflation and re-allocate investment for key works in order to further energize the competitiveness of the economy.
The Government will also be consistent in regulating the prices of energy, including petrol, coal and power along the market rule with proper roadmaps to be taken.
Regarding the realization of curbing inflation and ensuring macro-economic stability and social welfare, the Government said it will strive to keep inflation rate at 15-17%, GDP growth at 6%, and trade deficit under 16%.
NA deputies voiced support for the Government's flexible solutions to emerging challenges against the economy, with Chairman of the NA's Committee for Economics Hà Văn Hiền urging the Government to take more drastic measures.
Besides short-term solutions, more long-term remedies need to be promptly taken to improve the quality of the workforce, financial management capacity over State-owned enterprises, and make the financial system more transparent, the NA Standing Committee said.
By Hải Minh