Daily COVID-19 update: More tested negative, less monitored
VGP – The Vietnamese Ministry of Health reported that 1,908 people were tested negative for the COVID-19 in Viet Nam as of 7:30 pm on Thursday, up 78 cases from Wednesday.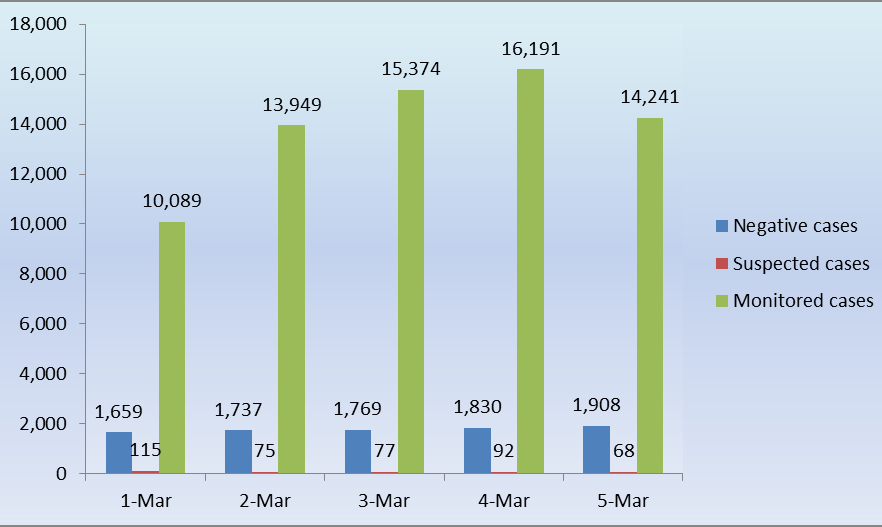 COVID-19 update: The number of people tested negative, suspected, monitored in Viet Nam from March 1-5. Source: The Ministry of Health
>>> VN succeeds in producing SARS-CoV-2 test kits
The ministry also said 68 suspected cases are being quarantined to prevent spread of the virus to communities, down by 24 cases the previous day.
In addition, the nation is monitoring 14,241 people due to close links with suspected cases and or coming from COVID-19 affected areas, a decrease of 1,950 from a day earlier, according to the ministry.
Though no new infection has been reported since February 13, the Government of Viet Nam still considers the epidemic combat its top priority.
At a meeting Thursday, Prime Minister Nguyen Xuan Phuc called for more drastic attitude towards prevention and control of the COVID-19 outbreak as it has spread to at least 84 countries and territories with more than 96,000 confirmed cases, including 3,309 fatalities.
The Government chief said that we are not allowed to be subjective or hesitate in this fight.
He tasked major municipalities, especially Ha Noi and Ho Chi Minh City, to envisage plans for large-scale quarantine while the healthcare sector and relevant authorities need to further specify plans for prompt allocation of personnel and resources to the epidemic-hit areas.
The PM also assigned the Ministry of Health to buy in 20 million facemasks for COVID-19 combat.
Phuc reaffirmed the Government's dual mission of fighting the epidemic and promoting socio-economic development, adding that he will sign a directive later the same day, which is expected to roll out urgent measures to ease difficulties against production and business.
Earlier on February 28 and March 2, the Government decided to halt visa-waiver program for citizens from South Korea and Italy, respectively, in a bid to prevent the spread of the virus to Viet Nam.
On March 4, Deputy Prime Minister Vu Duc Dam, head of the National Steering Committee for COVID-19 Epidemic Prevention and Control, attended and directed the Army's simulation exercise in response to the COVID-19 epidemic./.
By Kim Anh