COVID-19 response policy must be synchronously implemented nationwide
VGP – Prime Minister Pham Minh Chinh chaired a virtual meeting on Sunday to evaluate responses to the fourth COVID-19 wave and discuss measures to reboot economic recovery.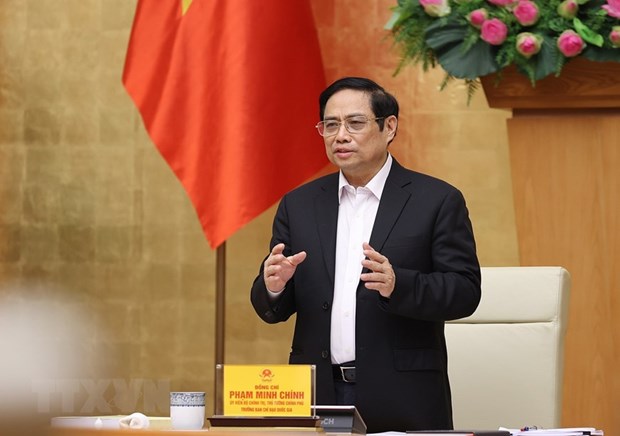 Prime Minister Pham Minh Chinh chairs a virtual meeting with the Steering Committees for COVID-19 Prevention and Control of 63 provinces and cities, October 17, 2021.
The fourth COVID-19 wave tied to the Delta variant has led to dramatic loss to human life and profound impacts on public health and livelihoods of people and business activities.
Rapid infection spike recorded in a short period of time overwhelmed healthcare systems, especially in Ho Chi Minh City and several southern provinces.
Due to the current wave, the country's economy only expanded 1.42 percent in the first nine months and pushed the unemployment rate to 3.72 percent in the third quarter.
Thanks to the drastic measures along with public cooperation, the current wave has been gradually contained in major hotspots like Ho Chi Minh City, Binh Duong, Dong Nai, and Long An.
As it is difficult to strive for zero cases, the National Steering Committee for COVID-19 Prevention and Control, led by PM Pham, last month agreed to switch away from "Zero COVID-19" to safe and flexible adaptation to and effective management of the pandemic.
Speaking at the meeting, the Government chief said the pandemic has been put under control nationwide after more than five months since the current wave began.
Against that backdrop, the Government on October 11 issued Resolution No. 128 adopting provisional guidelines on safe adaptation to the COVID-19 pandemic, based on which many cities and provinces have eased social distancing measures and gradually moved away from "zero COVID-19" to safe and flexible adaptation to the pandemic.
Pham demanded that Government's COVID-19 response policy must be carried out in a synchronous manner across the nation and localities are not allowed to issue additional regulations contrary to such policy. In case a locality wants to impose stricter measures, it must ask for permission from the central government.
He tasked ministries, agencies and localities to promptly finalize a plan for economic recovery, and continue effective enforcement of social security policies as well as vaccine strategy.
PM Pham also asked for measures to soon reopen schools in safe areas, to take care of children orphaned by COVID-19, and to better COVID-19 treatment./.
By Quang Minh