COVID-19 puts brake on foreign arrivals to Viet Nam
VGP – Foreign arrivals to Viet Nam reached 3.2 million in the first two month of 2020, a year-on-year increase of 4.8%, the lowest growth during 2016-2020 period, according to the General Statistics Office.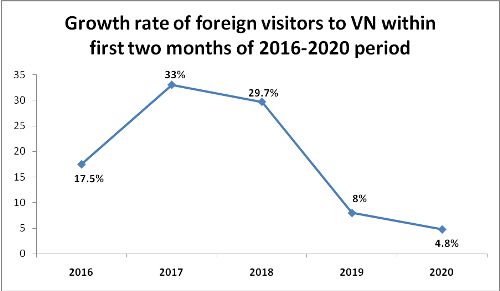 The chart shows inbound tourism falls down due to the COVID-19 epidemic
>>> Jan-Feb CPI highest in seven years
>>> Trade picks up slightly amid COVID-19 epidemic
Of the total, 2.617 million travelled by air, up 8% while 485,300 travelled by road, down 20.7% and 135,100 ones travelled by sea, up 146.1%.
In February alone, 1.243 million foreign visitors traveled to Viet Nam, down 37.7% compared to the previous month and a year-on-year decrease of 21.8%.
Visitors from Asia, America and Australia witnessed sharply respective decreases of 27.2%, 21.1% and 18.4% while arrivals from Europe and Africa increased by 6.1% and 11.6%, respectively.
During the two months, the number of Asian tourists was estimated at more than 2.431 million, making up 75.1% and up 4.7%, mainly from China (838,600, down 5.8%), South Korea (790,400, up 2.4%), Japan (163,000, up 8%), Chinese Taipei (169,900, up 19.9%), Malaysia (93,000, up 1.6%), Thailand (107,600, up 34.5%) and Singapore (41,800 ones, down 4%).
Meanwhile, inbound tourism from Europe saw a year-on-year increase of 8.8%, reaching 502,100 tourists, including from Russia (172,700, up 17.7%), the United Kingdom (63,600, up 5%), France (57,400, up 4%) and Germany (46,100, up 0.6%).
Visitors from the U.S. and Australia witnessed respective decreases of 1.9% and 2.7% against the same period last year, down to 155,100 and 78,400./.
By Thuy Dung