COVID-19 combat remains top priority amid rising infections, PM Phuc says
VGP – Prime Minister Nguyen Xuan Phuc reassured the Government's dual mission of fighting the COVID-19 epidemic combat and accelerating growth, in which the former remains the top priority in order to protect lives and health of our citizens.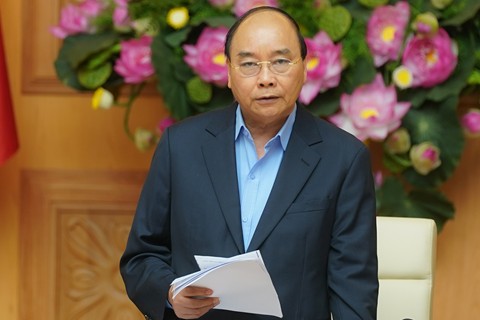 Prime Minister Nguyen Xuan Phuc presides over a meeting on prevention and control of the COVID-19 epidemic in Ha Noi on March 2, 2020. Photo: VGP
>>> 30 people returning from Wuhan exit quarantine facility
The Government chief underlined the point at a meeting on prevention and control of the epidemic on Monday amid fast spreading of the virus in the world.
He called for exploring all possible solutions with the involvement of relevant individuals and organizations to support the epidemic combat though we have to continue accepting short-term economic damage caused by the epidemic.
Due to the lack of early diagnosis equipment, quarantine is the best solution and we will commit serious mistake in protection of public health if we hesitate to carry out quarantine, Phuc emphasized.
Speaking at the meeting, Deputy Prime Minister Vu Duc Dam, Head of the Steering Committee for COVID-19 Epidemic Prevention and Control, called for fresh approach to cope with the new situation as South Korea, Italy and Iran have emerged as new "hot spots".
Preventing the virus from entering Viet Nam must be carried out in tandem with early detection of infection cases, Dam said.
On February 27, PM Phuc demanded resolute and mandatory quarantine of ALL incoming travelers from COVID-19 affected areas as confirmed infections rose quickly across the world.
As of 7:30 pm on Sunday, as many as 1,659 people had been tested negative for the novel coronavirus (COVID-19) in Viet Nam, the Ministry of Health reported.
115 suspected cases are being quarantined to prevent spread of the virus to communities, said the ministry.
In addition, 10,089 people have been monitored due to close links to suspected cases or coming from COVID-19 affected areas, according to the ministry.
So far, Viet Nam has confirmed 16 positive cases, including two Chinese tourists and all of them have been cleared of the virus and exited hospitals.
Now new infection has been reported since February 13./.
By Huong Giang