Coronavirus update: Gov't demands high sense of responsibility for nCoV combat
VGP – Prime Minster Nguyen Xuan Phuc urged ministries, agencies and localities to have high sense of responsibility for preventing the spread of the novel coronavirus (nCoV) to Viet Nam while presiding over a meeting Thursday.
January 30, 2020 6:12 PM GMT+7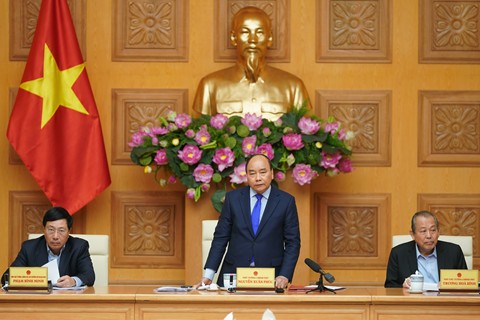 From left to right: Deputy Prime Minister and Foreign Minister Pham Binh Minh, Prime Minister Nguyen Xuan Phuc, Permanent Deputy Prime Minister Truong Hoa Binh at the meeting. Photo: VGP
>>> Gov't issues directive on novel coronavirus prevention and control
>>> HCMC hospital: Chinese coronavirus patient recovers after week-long treatment
>>> VN suspends visa issuance to tourists from coronavirus affected areas
He welcomed the establishment of 45 emergency response teams by the Ministry of Health as the virus infection cases have been reported in most provincial-level regions in China.
As of January afternoon, the acute respiratory disease caused by the nCoV caused at least 170 deaths in China and more than 7,822 infection cases around the world, according to the Ministry of Health.
In Viet Nam, the number of confirmed virus infection cases increased to 5, including two Chinese nationals and three Vietnamese citizens who have returned home from the Chinese city of Wuhan, said the Ministry.
One Vietnamese patient is being kept isolated and treated at the General Hospital of Thanh Hoa province while the other two patients are quarantined at the National Hospital of Tropical Diseases in Kim Chung commune, Dong Anh district, Ha Noi.
PM Phuc asked for plans to evacuate Vietnamese from China if necessary and temporary suspension of tours between the two countries.
The healthcare sector shall have to closely monitor health of Chinese citizens and students during 15 days since they enter Viet Nam.
Vietnamese citizens are encouraged not to travel to China and wear masks at public places.
Earlier on Wednesday, PM Phuc signed a directive clarifying responsibilities of ministries, agencies and localities in prevention and control of the pneumonia caused by the nCoV in the face of rising death toll and infections in China.
Following the issuance of the directive, the Ministry of Public Security asked immigration forces to suspend entry visa issuance to tourists from the novel coronavirus affected areas.
This is part of the ministry's measures to strengthen prevention and control of the (nCoV) thought to have originated from Wuhan, China.
The ministry tasked local-level police to coordinate with relevant ministries and agencies in tightening strict control at land, air and sea ports and encourage citizens not to travel across border crossings to prevent the virus infections.
Local police forces shall be active in detecting, preventing and punishing those who try to disseminate false information on the epidemic.
Meanwhile, the Civil Aviation Administration of Viet Nam (CAV) has asked airlines to proactively adjust their flight schedules and suspended all flights from coronavirus-affected areas to the Southeast Asian country.
In its recent directive on the prevention and combat of the epidemic, the CAV ordered airlines to not conduct regular flights and require additional licenses for flights from Viet Nam to China's affected regions.

Flights from and to affected areas in China must be restricted, the CAV said.

The administration requested airports to step up inspection and coordinate with relevant agencies to carry out plans to prevent and cope with a possible virus outbreak.

It asked the air transport department to suspend the approval of new flights from Viet Nam to China's affected areas and vice versa.

In its previous directive, the CAV ordered airlines to immediately report suspected cases to service supply agencies for prompt isolation and prevention.

As of January 30 morning, the pneumonia outbreak caused by the new strain of coronavirus (nCoV) caused at least 170 deaths and more than 7,700 infected in China. The outbreak first occurred in Wuhan, China, in late December 2019, and has now spread to 15 other countries with about 60 cases in Asia, Europe, North America and the Middle East./.
By Huong Giang
Follow us on Twitter @VNGovtPortal