Consumer confidence sets new record in Asia
VGP – Vietnamese Consumer Confidence increased 2.5 points from November to a record high of 144.8 points in December, according to ANZ-Roy Morgan.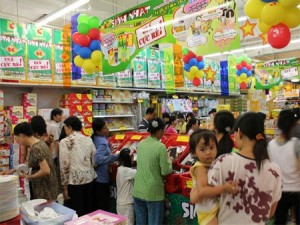 Illustration photo
The December's index helps finish 2015 as the highest consumer confidence in Asia for the first time.
The index is now well above its two-year average of 136.6, and is now a large 9.2 points above its figure in December 2014.
The rise in December was driven by improving confidence in the Vietnamese economy over the next 12 months and five years, says ANZ press release on Wednesday.
"Our final reading of the Viet Nam consumer confidence index leaves us in no doubt that Viet Nam will be one of Asia's outperforming economies in 2016-17," said Glenn Maguire, chief economist at ANZ's South Asia, ASEAN & Pacific.
Regarding individual finance, 35% of respondents said that their families are "better off" financially than the same period last year. Meanwhile, only 14% of consumers responded that their families are "worse off".
Up to 61% of Vietnamese customers expect the country would have good time financially over the next 12 months. By contrast, 9% of respondents expected 'bad' financial situation.
In the long run, 66% of customers (up 7%) expected Viet Nam to have good economic times in the next five years. Meanwhile, 5% of customers forecast 'bad' economic performance.
Up to 45% of customers (up 3%) said that this was a 'good time' to purchase important household utensils compared to just 10% (up 2%) who felt "now is a bad time"./.
By Kim Anh