Construction begins on LEGO Group's first carbon neutral factory
VGP - Standing Deputy Prime Minister Pham Binh Minh and visiting Danish Crown Prince Frederik attended the groundbreaking ceremony of a new factory of the LEGO Group in the southern province of Binh Duong on November 3.
November 03, 2022 3:42 PM GMT+7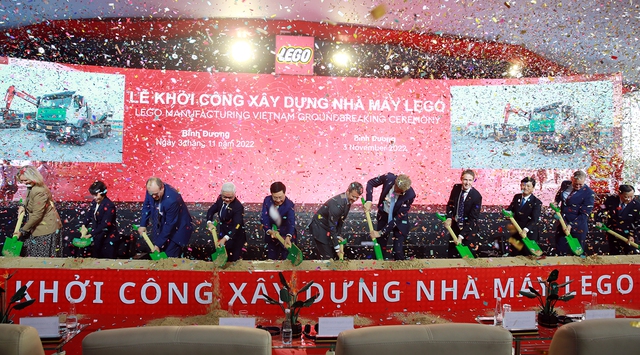 The facility, powered by solar energy, is planned to be the company's first carbon neutral factory in the world.
The LEGO Group invested more than US $1 billion in the 44-hectare site in Binh Duong province, around 50km from Ho Chi Minh City, and will create up to 4,000 jobs when its factory comes into operation by 2024.

The new factory will be the LEGO Group's sixth manufacturing site and second in Asia. It is being built to support additional long-term growth in the region so the company can continue to deliver play experiences to many more children in the years to come.
The new factory would help expand the LEGO Group's global supply chain network which locates factories close to its major markets. This provides the flexibility to respond quickly to shifts in local consumer demand, shortens the supply chain, and reduces the environmental impact of shipping long distances.
The new factory will feature solar panels on its roof and VSIP will build a nearby solar project on behalf of the LEGO Group. Combined, these solar parks will produce enough renewable energy to match 100 percent of the factory's annual energy requirements.
It will be constructed with an aim to meet a minimum standard of LEED Gold, which covers all areas of sustainability including energy, water, and waste. The factory will be designed to accommodate electric vehicles and be outfitted with energy efficient production equipment.
The LEGO Group will coordinate with Viet Nam-Singapore Industrial Park to plant 50,000 trees in Viet Nam to compensate for vegetation removed during construction.
The new factory will meet the LEGO Group's extraordinarily high quality and safety standards. Skilled local employees will be trained to operate the same high-tech production equipment used in every LEGO factory around the world.