Con dao: A "pearl" of the East Sea
VGP – With a beautiful natural landscape with nine beaches, coral reefs and vast green forests, it has become a stunning "pearl" that attracts a large number of domestic and international tourists to come for sightseeing and convalescence purposes.
September 26, 2014 2:20 PM GMT+7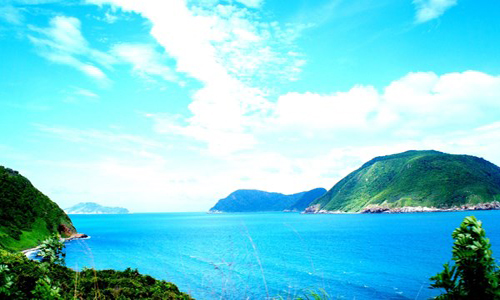 The island district of Con Dao in Ba Ria - Vung Tau Province that consisits of 16 islands and islets is located in the southern East Sea
From a "hell on earth" to a "tourist paradise"
In the past, Con Dao Archipelago was known as a "hell on earth."
The island district of Con Dao in Ba Ria-Vung Province, 97 nautical miles from Vung Tau City, consists of 16 islands and islets.
Due to lying in a convenient area on the sea route that links Europe and Asia, Con Dao was known to westerners very early. In 1294, Italian explorer Marco Polo on his way back home from China, encountered a storm and had to call on at Con Dao Islands. From then to the 16th century many groups of European travelers visited the islands.
In 1862, a system of brutal prisons was established in Con Dao, shortly after the French occupied three eastern provinces of South Viet Nam. From then to 1975, for 113 years, Con Dao became a "hell on earth" where people fighting against French colonialism and the former Sai Gon regime were imprisoned and oppressed.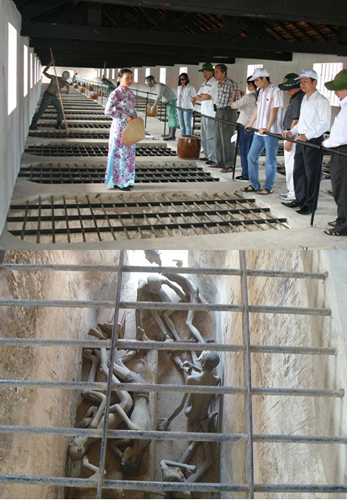 Tourists visit the "tiger cages" in Con Dao
It was in these prisons that the French colonialists shackled and brutally tortured the revolutionaries in an attempt to quell their will to fight for national independence, freedom and liberation. The most trenchant denunciation of the brutality of the notorious prison's regime lie in the isolated areas called "Pigsty" built by the French Colonists in 1940 and extended in 1963 by the US imperialists. In May, 2012 Con Dao prison was recognized as the largest prison on an island by the Asian Record Organization.
According to oceanographers, Con Dao is the place that disseminates organisms from the diversity center of the Indian-Pacific Ocean to the coastal waters of Viet Nam. In 1992, the World Bank ranked Con Dao as a typical representative of global marine protected areas.
We took a flight from Tan Son Nhat Airport in Ho Chi Minh City and after less than 45 minutes Con Dao appeared in the blue sea. We landed at Co Ong Airport and saw a space of unspoiled natural scenes and superb mountains.
Being one of 21 national tourist destinations of Viet Nam, Con Dao is considered a tourist attraction and a paradise of health resorts for domestic and international visitors. In 2011, it was voted as one of the world's top 10 mysterious and best islands by Lonely Planet, a prestigious Traveller Magazine of England.
We followed the path winding through the mountains and reached Con Dao District's center where there are ideal beaches and health resorts with unique designs for visitors. Here, there is the 5-star Six Senses Con Dao, a resort complex of 50 wooden villas which are situated along a 1.6-km beach and surrounded by a range of mountains. Con Dao also has many beautiful beaches and fascinating tourist sites endowed by nature, such as Dam Trau, An Hai, Suoi Nong and Nhat Beaches, Con Son and Dam Tre Bays and Tinh Yeu Peak.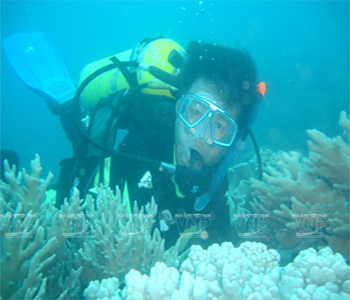 Discovering coral reefs - Photo: VNP
Visiting Con Dao, tourists can take a tour to visit small islets in the ecosystem of Con Dao National Park, such as Hon Bay Canh, Hon Tai, Hon Trung, Hon Trac and Hon Cau. These are the habitats of about 285 species of plants and over 100 species of birds and endemic mammals, such as Finlayson squirrels, pied imperial pigeons, rock rats, swifts, hawksbill sea turtles, olive ridley sea turtles, sea cucumbers and gracilaria. In Con Dao National Park, archaeologists have also discovered relics of the Neolithic Age – the early Bonze Age (about 3,000 years ago) and the graves of the late Sa Huynh Culture – early Cham Culture (about 2,000 years ago).
Tourists can also enjoy diving to see the corals and explore the wonderful ocean. At night they can watch the Chelonia mydas sea turtles (also known as olive ridley sea turtle) making nests and laying eggs in a quiet and peaceful space on the coast of Bay Canh Island.
Now, it is important for Con Dao to keep the environment and landscape clean and beautiful to create a sustainable tourism value. Secretary of Con Dao District's Party Central Committee Truong Hoang Phuc said that the district authorities have called upon the community to participate in tourism development and environmental protection through the project "Say no to plastic bags", and at the same time encouraged the residents and visitors to use bicycles as a means of transport.
A great sea and island economic potential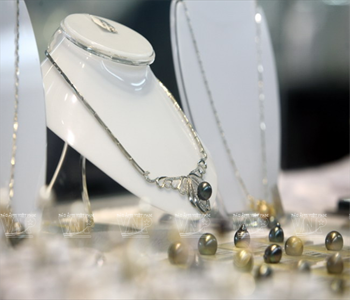 Pearls from oysters raised at Con Dao have a nice gloss and narce, and are not inferior to the pearls of countries which are famous for oyster farming - Photo: VNP
According to Dr. Tran Duc Thanh, former Director of the Institute of Marine Environment and Resources, Con Dao Archipelago has three islands which have been chosen as the benchmark to set up a straight baseline to calculate the width of the territorial waters of Viet Nam's continental shelf and establish a vast area of inland waterways, including the entire Cuu Long oil depot.
Con Dao is also a large fishing area, which is very convenient for logistic services, and the construction of seafood processing facilities for export. Ben Dam Bay, which is 6-18m deep and is shielded from the wind, is home to the main port of the island district. The port supplies all services, such as oil, electricity, water, fish and cold storage. Con Dao District has a fairly large fleet which catches about 10,000 tons of sea products a year.
In the near future the district will complete the upgrading of Co Ong Airport and will build a 336m-long marine commercial service port in Ben Dam to accommodate the 2,000 ton ships. At the same time, the tourist wharfs in the district's center will be renovated, and tourist wharfs at the small islets, Bai Ong Dung port and passenger ports for 50,000-70,000GRT ships will be built.
Now, Con Dao has about 10 places where swift nests can be found and oysters can be raised for pearls. The pearls from the oysters raised at Con Dao have been evaluated as having better quality than the pearls from the oysters raised in other territorial waters of Viet Nam. They have a nice gloss and nacre, and are not inferior to the pearls of countries which are famous for oyster farming for pearls.
We visited Ngoc Hien Pearl Enterprise and were told about a process of pearl cultivation with modern technology, from selecting and raising the oysters and transplanting the pearls to producing the products. Reportedly, 75% of the pearls produced by Ngoc Hien Enterprises are exported to other countries, including the world's leading countries in pearls, such as Japan and South Korea. Con Dao's success in artificial multiplication of breeding oysters has not only met the long-term production demands but also helped balance the ecology of the marine environment. Moreover, the pearl potentials have contributed to creating more jobs and bringing a stable income for many people in Con Dao.
The PM issued a decision approving the adjustment of the master plan on the construction of Con Dao until 2030, with the aim of ensuring the harmonious relations of the economic development, the preservation of historical and cultural relics and the protection of forest and sea ecosystems, ensuring national security and defense in the direction of modern and sustainable development./.
Source: VNP