CLMV Action Plan for 2023-2024 period adopted
VGP - Cambodia, Lao PDR, Myanmar and Viet Nam (CLMV) adopted the CLMV Action Plan for the 2023-2024 period at the 14th CLMV Economic Ministers' Meeting (CLMV-EMM 14), which took place within the framework of the 54th ASEAN Economic Ministers' Meeting (AEM-54) in Siem Reap, Cambodia on September 16.
September 17, 2022 3:35 PM GMT+7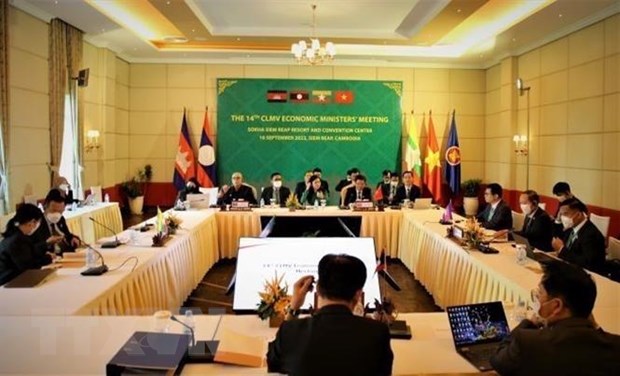 Initiated by Viet Nam in 2010, CLMV-EMM mechanism aims to strengthen economic and trade relations among CLMV countries and coordinate more closely in activities of sub-regional, regional and international forums.
In addition, it targets to narrow the development gap between the four countries and other ASEAN member states and accelerate the implementation of agreements reached at CLMV summits.
In 2021, the trade value between CLMV and the world hit nearly US$750 billion, up nearly 20 percent against 2020 and accounted for 22.4 percent of the total trade value between ASEAN and the globe.
Addressing the event, Minister of Industry and Trade Nguyen Hong Dien, head of the Vietnamese delegation, welcomed the inclusion of digital economy cooperation in the action plan, which helps CLMV enterprises, particularly small and medium-sized ones, transform business models, reduce expenditure and improve effectiveness.
Viet Nam will continue to facilitate the participation of Cambodia, Laos and Myanmar at international fairs and exhibitions hosted by the nation and maintain its scholarship programs for students from these countries, Nguyen noted.
The four countries need to support each other to effectively launch free trade agreements (FTAs) they have joined, contributing to consolidation of supply chains and development of the business community, he suggested.
The Vietnamese Minister expressed thanks to Cambodia, Laos, Myanmar and the ASEAN Secretariat for cooperating and advocating Viet Nam to fulfill its role as the chair of the CLMV economic cooperation mechanism in 2022.
He expected that Cambodia will successfully host the mechanism next year./.