Chinese ships maintain aggressive acts in VN's waters
VGP - China on June 24 sent 102 – 108 vessels, including six military ships, to protect its oil rig that is illegally stationed in Viet Nam's waters, continuing aggressive acts to harass Vietnamese ships, according to the Viet Nam Fisheries Resources Surveillance Department.
June 24, 2014 8:15 PM GMT+7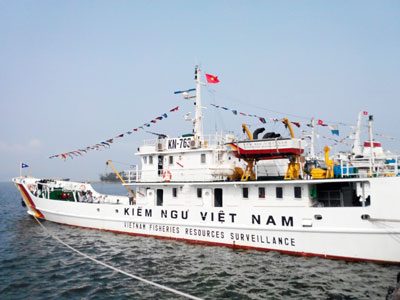 Illustration photo
From 13:10 to 14:25, China's reconnaissance aircraft CMS-B3586 operated at an altitude of 500-700 metres in the south – southeast areas, 12 nautical miles from the rig Haiyang Shiyou-981.
During the day, Vietnamese fisheries surveillance vessels performed duties at 9 – 11 nautical miles from the rig and continued communication work requesting China to withdraw the rig and escort ships out of Viet Nam's waters.
China's coast guard vessels and tugboats in rows sped up in an attempt to ram and fire high-pressure water cannons against Vietnamese ships.
Braving China's aggressive acts, Vietnamese ships remained in the area to continue their duties.
Meanwhile, about 30 fishing ships of China, escorted by two coast guard vessels coded 46102 and 46106, operated at a distance of 20 – 50 metres from Viet Nam's fishing boats to prevent them from getting closer to the rig.
Supported by fisheries surveillance ships, Vietnamese fishing vessels continued their normal activities 40 – 45 nautical miles west – southwest of the rig./. - VOV