China's perverse acts spark national resentment
VGP – China's illegal installation of the drilling rig Haiyang Shiyou 981 in Viet Nam's waters has sparked public resentment across Viet Nam, said PM Nguyen Tan Dung while presiding over the Cabinet monthly meeting on Thursday.
May 29, 2014 10:15 PM GMT+7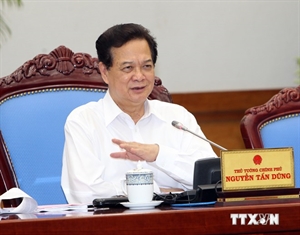 PM Nguyen Tan Dung
The China's move is an especially serious violation of international law, including the 1982 UN Convention on the Law of the Sea (UNCLOS) and Declaration on the Conduct of Parties in the East Sea, directly threatening peace, stability, security, safety and freedom of navigation in the East Sea.
Noticeably, China has deployed more than 130 ships, including military vessels and planes to guard the oil rig located 80 nautical miles deep into the Vietnamese exclusive economic zone prescribed by the UNCLOS.
More seriously, Chinese ships even repeatedly controlled, attacked, rammed, threatened with violence the vessels of the Vietnamese law enforcement forces as well as fishing boats. China even sunk a Vietnamese boat, with 10 fishermen, on 26 May 2014.
In face of China's perverse acts, Viet Nam has been determined to use peaceful measures in accordance with international law, communicated with the Chinese leaders at all levels for over 30 times to lodge clear protest against China's infringement and demand China immediately withdraw its oil rig and escorted ships from Viet Nam's exclusive economic zone and continental shelf.
Viet Nam has also dispatched law enforcement vessels, maintained the presence of fishing boats in the area where China illegally placed the oil rig, and provided updated information and evidence to the international community.
PM Dung affirmed that Viet Nam will continue to maintain the presence of fishing boats as well as vessels of the Viet Nam Coast Guard and Fisheries Surveillance Forces, and demand China withdraw the oil rig and escorted vessels without delay from Viet Nam's waters.
Viet Nam will also persist with the diplomatic struggle to protect the sacred sovereignty of the nation by peaceful means. A legal lawsuit against China regarding the illegal rig placement will be considered to conform with international law.
He said that the country will also continue to provide the international community with information on China's perverse actions in an honest and objective manner through various channels.
In addition, Viet Nam will try its best to preserve its friendship with China while figuring out measures to cope with possible unfavorable fluctuations in the economic ties between the two countries./.
By Hai Minh