China to aid Viet Nam with additional 3 million vaccine doses
VGP – Chinese State Councilor and Minister of Foreign Affairs Wang Yi announced that his country will aid Viet Nam with three million COVID-19 vaccine doses this year.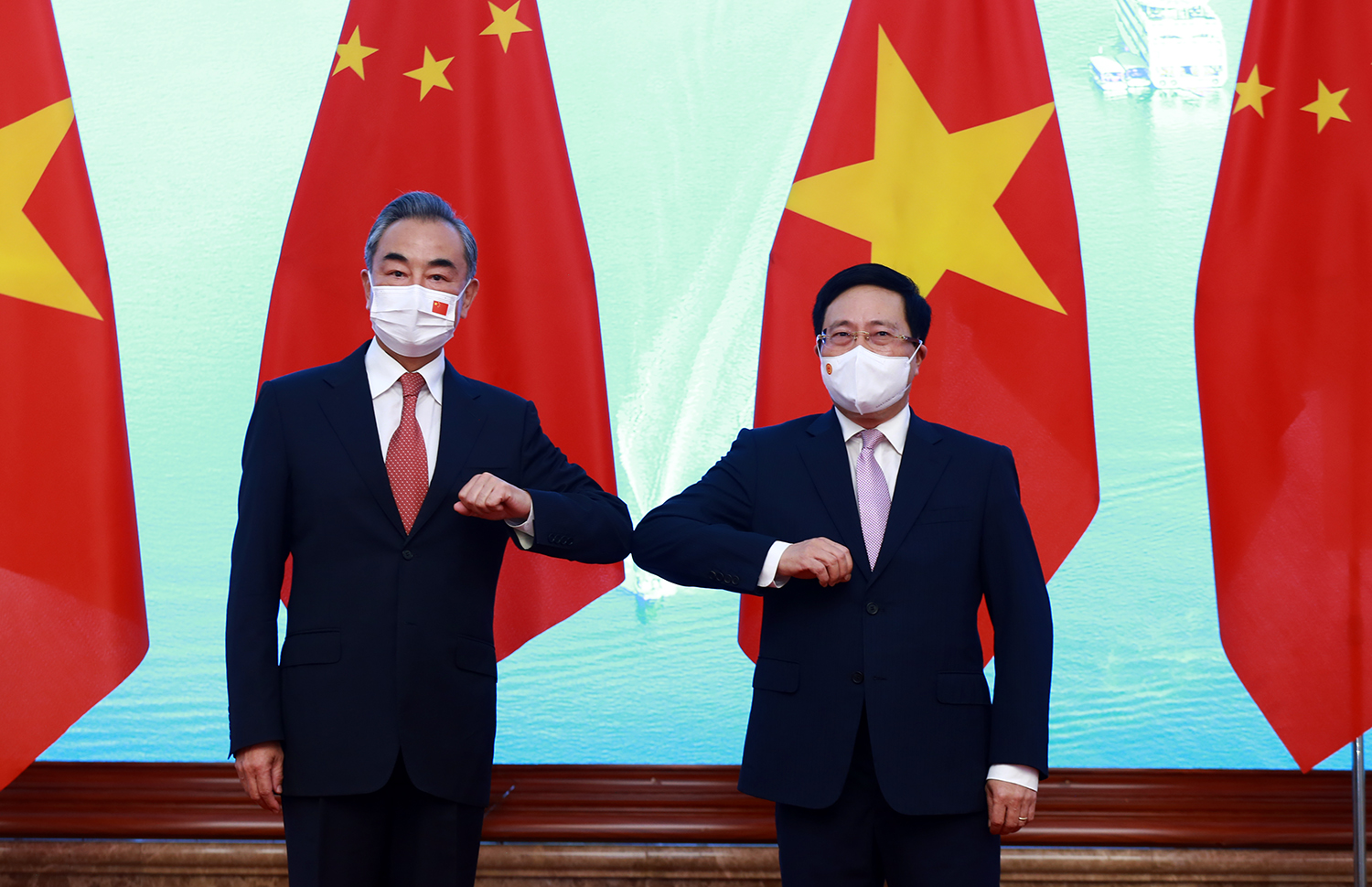 Permanent Deputy Prime Minister Pham Binh Minh (right) rubs elbows with Chinese State Councilor and Minister of Foreign Affairs Wang Yi at the Government Office, Ha Noi, September 10, 2021. Photo: VGP
Wang made the announcement while co-chairing the 13
th
meeting of the Viet Nam-China Steering Committee for Bilateral Cooperation in Ha Noi on Friday.
Speaking at the meeting, Vietnamese Deputy Prime Minister Pham Binh Minh appreciated the Chinese aid.
Both Pham and Wang agreed the two countries will resume commercial flights once the conditions allow, further faciliate movement of humans and goods, and continue effective measures to foster economic, trade and investment cooperation in a stable, sustainable, balanced and healthy manner.
They agreed both countries should accelerate the opening or upgrading of new border gates in a bid to strengthen trade exchanges in the border areas; strengthen cooperation in science and technology, environment, transport, agriculture, education, tourism as well as coordination at multilateral forums.
Regarding sea issue, the two sides agreed to continue serious implementation of the common perceptions reached by the two countries' leaders, effectively control divergences, not to take any action that further complicates the situation, and work together to maintain peace and stability in the East Sea.
The sides also agreed to step up the process of completing and signing a new agreement on fisheries cooperation in the Gulf of Tonkin.
Deputy PM Pham undersocred the importance of respect for each other's legitimate rights and interests in line with international law, including the 1982 UN Convention on the Law of the Sea./.
By Huong Giang