China threatens peace, says geopolitics professor
VGP – China's placement of the oil rig Haiyang Shiyou 981 in Viet Nam's exclusive economic zone threatens peace in Southeast Asia and the world as a whole, noted an Argentine professor.
June 30, 2014 4:15 PM GMT+7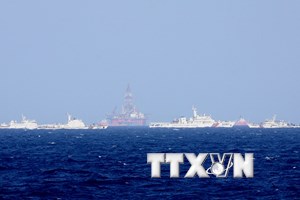 Chinese ships brazenly guard the oil rig illegally placed in Viet Nam's waters
Speaking at a commentary radio program on international affairs, Mr. Alberto Hutschenreuter, geopolitics professor from Argentina's School of Air Force said that China's move created a crisis of international law.
He expressed his concern over China's refusal to abide by international organizations' decisions on dispute resolution. China also incited nationalism and stepped up arms race.
His concern was shared by his colleague Diego Valazquez, Social Media Manager of Equilibrium Global who said China is seeking to demonstrate its strength to intimidate others with the goal of illegally arrogating natural resources in the East Viet Nam Sea.
Velazquez underscored that China's installation of its drilling rig and a number of escort ships , including military ships, to Viet Nam's waters is an action of invasion which challenges Viet Nam's sovereignty and threatens peace and stability in the region and the world.
At the same time, Vanina Soledad Fattori, Equilibrium Global's Coordinator of Contents, who is also a commentator of the Argentine website for world affairs "United Explanation," pointed out that Beijing's move in the East Sea infringed both the 1982 United Convention on the Law of the Sea and the Declaration on the Conduct of Parties in the East Sea that it signed with ASEAN countries in 2002.

She was of the view that Viet Nam has full historical evidence to prove its sovereignty over Hoang Sa (Paracel) archipelago which was occupied through the use of force by China.
Fattori also noted that international opinion worldwide supports Viet Nam's stance of settling sea issues through peaceful measures in conformity with international law, especially the 1982 UNCLOS with the hope to maintain peace and stability in Southeast Asia and the world./.
By Quang Trung