China must immediately withdraw oil rig, escort ships
VGP – Viet Nam resolutely demands China immediately withdraw the drilling rig Haiyang Shiyou-981 as well as its escort ships from Viet Nam's exclusive economic zone and continental shelf, reiterated PM Nguyen Tan Dung.
July 02, 2014 7:31 PM GMT+7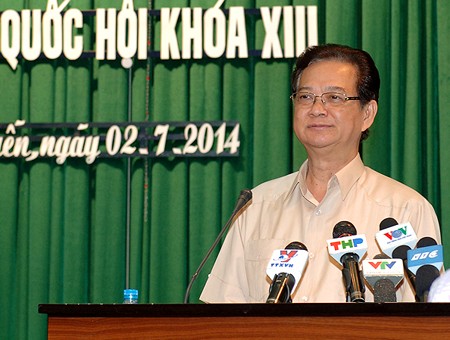 PM Nguyen Tan Dung - Photo: VGP
The Government chief made the statement on Wednesday while meeting with voters in Hai Phong following the closure of the 7
th
working session of the 13th National Assembly.
He said that the Legislature deliberated China's move and issued a statement clarifying its stance on the issue, protesting China's illegal acts and demanding it remove immediately its rig out of Viet Nam's waters and not to repeat actions violating Vietnamese sovereignty, during the session.
China brazenly moved the oil rig and a large number of ships into Viet Nam's waters since early May, adversely affecting the relations between the two countries and threatening peace, stability and security in the region.
The Chinese move also sparked national resentment. All Vietnamese people are united to resolutely use all peaceful measures in accordance with international law to defend the peaceful environment for national development, PM Dung said.
He highlighted that all the measures taken by Viet Nam have been welcomed and supported by the international community. Countries around the world have also condemned China's acts of violating international law.
PM Dung affirmed that Vietnamese competent agencies are preparing dossiers which will be submitted to the high-ranking leaders for considering a legal action against China in conformity with international law.
The National Assembly's latest session adopted 11 laws and two resolutions and debated 16 draft laws and one resolution./.
By Huong Giang