Chief Representative of AHK Viet Nam: Viet Nam is biggest ASEAN trading partner of Germany
VGP – Viet Nam is expected to continue leading the region in recovering and remains at its position as an attractive investment hub for German entrepreneurs in the long term. They are drawn in by the reasonable and high-quality labour, the open investment environment, new generation free trade agreements, and a growing local consumer market.
October 11, 2021 1:03 PM GMT+7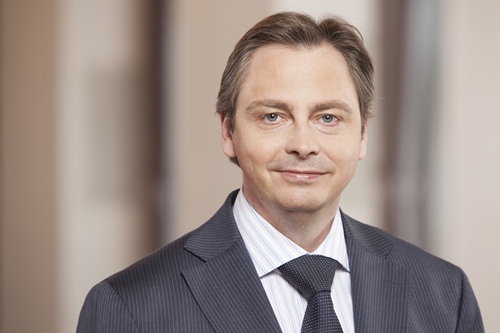 Chief Representative of the Delegation of German Industry and Commerce in Viet Nam (AHK Viet Nam) Marko Walde
Marko Walde, Chief Representative of the Delegation of German Industry and Commerce in Viet Nam (AHK Viet Nam) made that statement at an interview with the Viet Nam Government Portal on the occasion of the 10
th
anniversary of the establishment of Viet Nam-Germany Strategic Partnership.
Regarding the development in economic and trade ties between the two sides over the recent decade, Marko Walde said that with a trade volume of EUR13.3 billion (or US$15.6 billion) in 2020, Viet Nam is the biggest ASEAN trading partner of Germany.
Over 500 German companies-via different forms of investment such as foreign direct investment (FDI), mergers and acquisitions, and joint venture-are present in Viet Nam. This investment has created around 47,000 quality jobs in the Southeast Asian nation.
This investment has created around 47,000 quality jobs in Viet Nam. Most German investment projects are in the southern provinces, especially in the economic and commercial centre of Ho Chi Minh City and nearby provinces such as Dong Nai, Binh Duong and Long An.
EVFTA opens new market access opportunities in numerous sectors
The Chief Representative of the AHK Viet Nam supposed that thanks to the EU-Viet Nam Free Trade Agreement (EVFTA), European and German companies can enjoy protection of investments with trade facilitations when investing in Viet Nam.
A wide range of benefits are removing tariffs, reducing regulatory barriers and overlapping red tape, ensuring protection of geographical indications, opening up services and public procurement markets. Furthermore, the EVFTA will open new market access opportunities in numerous sectors for German firms.
The EVFTA, with its liberalization of customs duties and the strengthening of trade and business relations, offers numerous opportunities for EU and German companies, he affirmed, adding that an increase of German enterpreneurs consider to shift their manufactures from China to Viet Nam according to the "China plus One" strategy. They are complementing their existing Chinese operations with new activities in Viet Nam regarding sourcing and investments.
"When it comes to alternatives in the ASEAN region, German firms choose Viet Nam first", Marko Walde highlighted.
Companies that increase investment in Viet Nam despite COVID-19 pandemic. Tesa-German company- begins building EUR 55 million plant at DEEP C Industrial Zones Viet Nam in the northern city of Hai Phong. This manufacturing site will employ about 140 employees. In addition, many German Automotive suppliers, who are now based in China, intend to invest in Viet Nam.
The EVFTA provides German firms greater access to the Southeast Asian regions and brings more opportunities for partnership and cooperation in this emerging market, he underscored.
Based on the improved condition and favourable environment in Viet Nam, the Chief Representative of the AHK Viet Nam expected that German investors will increase investments and there will be many FDI flows for high-valued projects into Viet Nam. With the EVFTA, Viet Nam will benefit a lot from German well-known technology in management and training, more value-added production and less waste of material and resources.
Meanwhile, trading activities between both nations have witnessed a sustainable development and will be further strengthened in the future as benefited from the comprehensive EVFTA, said Marko Walde, emphasizing that Europe is a large market for Vietnamese goods and vice versa.
Thanks to this agreement, the bilateral trade will be accelerated considerably as the result of the elimination of bilateral tariffs and export taxes, together with the reduction of non-tariff barriers affecting the cross-border exchanges of goods and services.
In addition, new opportunities to access markets will emerge across many sectors, covering goods, services, and investment for German companies in Viet Nam. This is particularly true in the automotive, green energy, electronics, IT, food processing, healthcare industry, education, and vocational training.
For the German export side, traditional goods such as machinery as well as measuring equipment will be the most profitable products for export. For the Vietnamese export side, many HS positions already had low tariff rates due to the Generalized Scheme of Preferences (GSP). However, further tariff reductions will apply and thus chapters such for agricultural produce, food processing and footwear profit even further.
Viet Nam plays increasingly important role for German businesses in region
"The Vietnamese Government's favourable policy regime and robust business environment have ensured that foreign capital keeps flowing into the country", acclaimed Marko Walde, asserting that with its quality investment climate and diverse and enormous investment opportunities, Viet Nam continues to attract investment of German small and medium-sized enterprises (SMEs).
However, he supposed that there still missing structured supporting strategies for local enterprises to improve their competitiveness as well as the management and leadership skills when Viet Nam integrates deeply and widely into global economy.
German companies hope for stronger links between them and local counterparts, enabling greater global supply chain participation, also in supporting industries on purpose of competitive industry cluster in Viet Nam, he said.
As a country of young and growing labor force, Viet Nam should take this advantage and invest heavily in educational and training in order to build workforce with diversifed skills and to upskill the existing labor force for the modern high-tech manufacturing industry. Therefore, the nation should develop a practical oriented dual vocational training and education system in order to gain high skilled labor force, he suggested.
In addition, the Chief Representative of the AHK Viet Nam recommended the country further liberalize its trade policies in order to benefit from the international relations. At the same, the Government should bring in policies which would curtail the environmental pollution and overexploitation of resources by the FDI projects.
The Asia-Pacific Committee of German Business calls for Stronger EU Commitment in Asia and confirms the growing importance of Viet Nam as a production location. Viet Nam is playing an increasingly important role for German businesses in the region, as the EU was recently able to conclude a high-quality and comprehensive free trade agreement (FTA) with Viet Nam.
In addition to easing the entrance for foreigners and based on the current situation of the pandemic worldwide, the Vietnamese Government should also consider opening more international flights especially for foreigners and supporting the work visa for those who wish to stay and work in Viet Nam for a long time, he proposed.
More importantly, the Government would support the well-organized immigration procedures to facilitate the legal entry of investors, managers, technical experts, diplomats and their family members, added Marko Walde.
The AHK Viet Nam is a representative of the German Chamber of Industry and Commerce (DIHK) and a part of the global network German Chambers of Commerce Abroad (AHKs) in 140 locations in 92 countries.
In Viet Nam, the AHK is a private, neutral and non-political organization with the public mandate to promote bilateral trade and investment between Germany and Viet Nam since 1994.
By Thuy Dung