Cham people's art of pottery making honoured by UNESCO
VGP - President Vo Van Thuong and Deputy Prime Minister Tran Hong Ha on Thursday attended a ceremony to receive a certificate from UNESCO recognising the pottery-making art of the Cham ethnic minority people as Intangible Cultural Heritage in Need of Urgent Safeguarding in Ninh Thuan Province.
June 16, 2023 10:21 AM GMT+7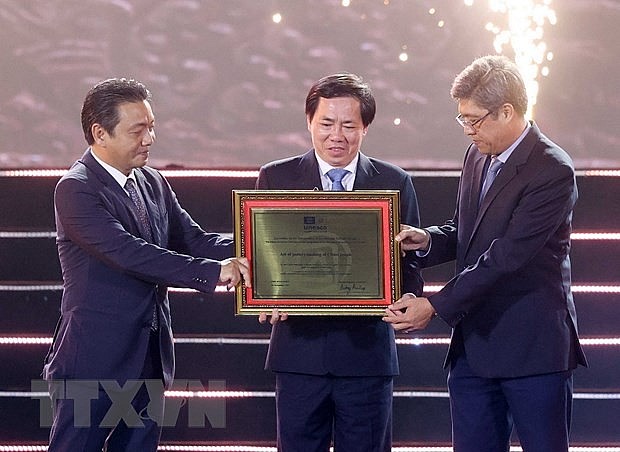 The Cham people's pottery-making art was inscribed in the list of intangible cultural heritage in need of urgent safeguarding by UNESCO on November 29, 2022.
The art of pottery making of the Cham people is Viet Nam's 15th intangible cultural heritage inscribed by UNESCO, and also the fourth UNESCO title Viet Nam won in 2022, following three other titles awarded to a collection of handwritten Chinese and Nom documents in Truong Luu village of central Ha Tinh province, the 78 "ma nhai" steles on Ngu Hanh Son Mountain in central Da Nang city, and the learning city of Cao Lanh in the Mekong Delta province of Dong Thap.
Cham pottery products are mainly household utensils, religious objects and fine art works, including jars, pots, trays and vases. They are made by women and viewed as an expression of individual creativity based on the knowledge transmitted within the community.
Cham pottery products are mainly household utensils, worship objects, and handicrafts such as jars (called "jek"), pots (gok), food trays (cambak), and vases (bilaok).
However, despite many safeguarding efforts, the viability of the craft is still at risk for several reasons, including the impact of urbanization on access to raw materials, insufficient adaptation to the market economy and lack of interest among younger generations.
The same day, the Grape - Wine Festival 2023 was launched in the south central province.
Themed "Ninh Thuan – The land of convergence of different values", the festival, running from June 13-18, is an important and meaningful event for Ninh Thuan to attract more tourists, thereby turning tourism into a spearhead economic sector with sustainable development in the coming years.
The biennial festival seeks to build a brand for the province's grapes and honour various ethnic cultures.
Spectators had a chance to enjoy a low-range firework display in the opening night of the festival which is slated for June 16, 2023 at April 16 Square.
Ninh Thuan is home to 1,060ha of grape cultivation, which is expected to double to 2,000ha by 2030./.